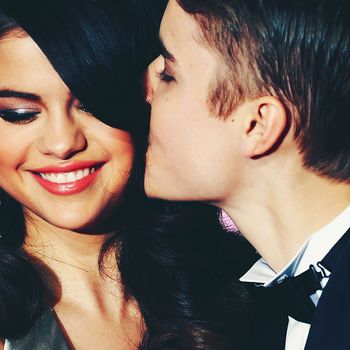 The two love birds in 2011.
Photo: VALERIE MACON/AFP/Getty Images
Justin Bieber and Selena Gomez definitely woke up with a hangover today — a sugar hangover. The two skipped town on a private jet yesterday to spend their date night in the romantic city of Bellevue, Washington, where they hit up the celeb-favorite Sugar Factory and shared a sugary blue drink out of a 60-oz. glass goblet. According to TMZ, the couple ordered the Ocean Blue — two straws, nonalcoholic.
Sources close to the couple told TMZ that the couple spent extra time in the super-sexy Chocolate Lounge, where they sipped on the aforementioned $34 drink featuring gummy sharks and dry ice. The sources said their eyes and hands were apparently locked all night, and only broke apart when "Buttons" by the Pussycat Dolls played (Justin was apparently feeling the music).
Below, a fan captured Selena walking past lollipops and cotton candy.
She was ready to drink the sweet Ocean Blue, pictured here.
Given the two are going on weekend trips and Selena was brave enough to wear Justin's sweat-drenched hockey jersey last month, it seems like things are going pretty well.