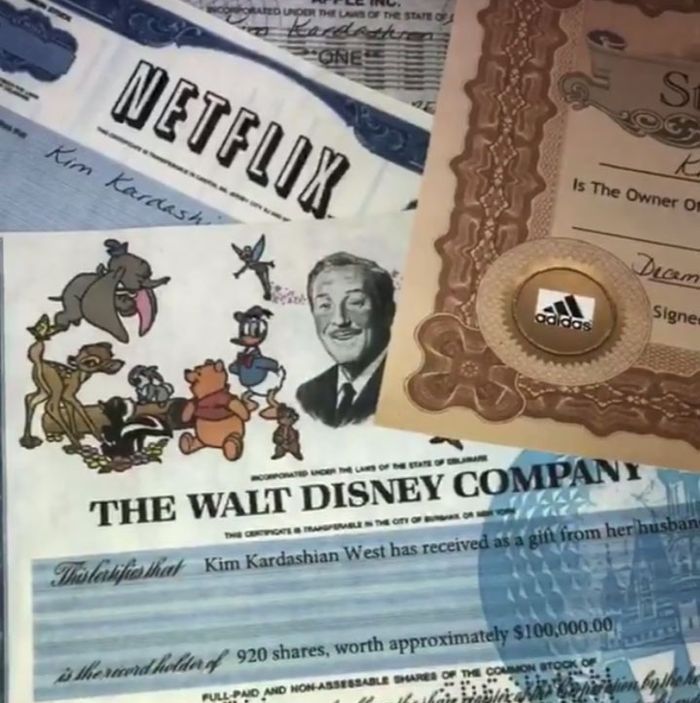 Kim Kardashian's stock certificates.
Photo: Instagram/Kim Kardashian
Plenty of holiday gifts don't last very long. That box of chocolates from your aunt? It'll be gone by the end of the week. That check from your grandma will surely be spent on next month's rent, and even the sweater from your mom that you really wanted will one day go out of style. But Kanye West has put all these temporary presents to shame — by giving Kim Kardashian a whole bunch of valuable stocks.
As seen on her Instagram story, Kardashian received at least $200,000 in stocks from her husband in Amazon, the Walt Disney Company, Netflix, Amazon, Apple, and Adidas for Christmas, according to People.
"Okay, so for one of my Christmas presents from Kanye he gives me this little box with a Disney Mickey toy, Apple headphones, Netflix, Amazon gift cards and Adidas socks," Kardashian told her followers. The reality star then went on to reveal a second box, which was full of the aforementioned stocks.
People notes that the stock certificates show that she received 920 shares of Disney, valued at around $100,000, as well as 995 shares of Adidas, currently valued at approximately $169,000. The remaining amount of Kardashian's stock certificates was not shared on Instagram, though People estimates West probably spent at least another $100,000 on those.
Stocks: the true gift that keeps on giving* (*as long as they remain valuable).