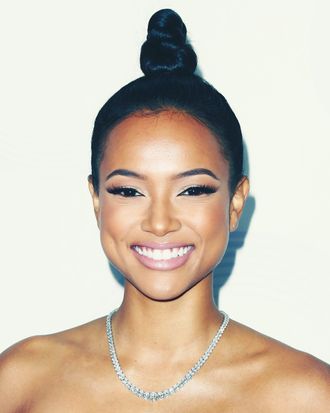 Karrueche Tran.
Photo: Paul Archuleta/FilmMagic
Karrueche Tran is a model and Claws actress who has kept 7.3 million Instagram followers hooked with her wit and flawless skin. She recently partnered with Curve cologne and hosted their holiday party — complete with a spiked hot chocolate bar. Tran caught up with the Cut to discuss how she gets her skin to look so great, the one serum she'll splurge on again and again, and the drugstore beauty brands she can't live without.
What's your skin-care routine like?
I try to take care of it as much as possible, especially working on set all the time and 12-hour days or events where I have a lot of makeup on. Water is my best friend.
I do a lot of masks. I recently invested in a facial steamer that you put water into. I wash my face, steam it, and put on a mask right after because the steam opens up your pores. I put the mask on for ten minutes, wash it off, and then melt an ice cube all over my face because that tightens your pores. Then if it's nighttime, I do a night cream or serum or an oil, something to keep your skin moisturized.
What are some of your favorite masks?
Glamglow, Peter Thomas Roth, Origins, La Mer all have good masks … they're more expensive, but they're great. Even Target, there's a brand called Que Bella that has very affordable masks. Those work very well too. I get really puffy eyes so I'm all about a good puffy eye mask.
Your skin is always so smooth, do you use a special treatment to fight breakouts?
Just masks, or I use the steamer to sweat out oil or dirt as much as possible. I sit in front of the mirror and pick at my face until I'm all red and ugly and looking crazy. I'm like, Walk away, but just get that one little blackhead!
I read that you have a sauna routine? What is that like?
I do Sweatheory, it's a place in L.A. where they have small, heated saunas that go up to 130 degrees. You can sit in it. When I want to clear my face or if I'm feeling sick and want to get toxins out of my body, I'll sit in there for around an hour. I step out at certain times when it gets too hot. I've been doing a lot of hot yoga too, where I sweat a lot.
So you're just a big believer in the powers of sweat?
Yeah, I feel like that's a really good way to clear out your pores without having to do too much picking. It all comes out.
What's your worst beauty habit?
Probably picking my face. I'm also addicted to Chapstick. I can't go anywhere without Chapstick — the store, the gym, traveling. I'm the one person that's like putting it on every two seconds. Just the Chapstick brand, the strawberry flavor is my favorite.
You're a spokesperson for Curve for Men. What crosses your mind when you smell a man wearing the scent?
I think about sexiness, confidence, and knowing that a man cares about himself. The word that comes to mind is delicious. It's a perfect scent.
It's not too light and floral, but it's not too overbearing where it's like, Dude, that's too much. It's a great scent for beginners. My best friend has been wearing it since high school.
How do you take care of your hair?
My scalp has been very dry lately with the weather, so I bought Moroccan oil scalp treatment. It comes with a little squeeze-y thing. You squeeze the oil into your hands and just massage it into your hair, it's so easy. Sometimes I'll leave it in for a day or two if I don't have a hairstyle that I need to do. Just keeping that moisture in my hair is important.
Two years ago I dyed it blonde. My real hair. I sat in the salon for like seven hours, I don't know what I was thinking. I wanted a platinum, blonde, ashy color when I have naturally black hair. Ever since then, my hair hasn't been the same. Before I was using like, Herbal Essences but now I use Frédéric Fekkai. Our hair is forever, we have to take care of it and maintain it.
What's your biggest beauty splurge?
I've been buying Chanel's Hydra Beauty Serum which is over 100 bucks. It's been working wonders. I've gotten a lot of compliments on my skin. After you wash your face you put a little on, then moisturize. Girl, I buy it every time I run out.
What's your favorite foundation and highlighter?
Right now I'm using a Bobbi Brown foundation stick. It's the perfect tone and it's not too heavy or oily. Nars' Velvet Matte foundation is really good because I have oily skin. For concealer, I use Nars. I have like, three or four different concealers. Sometimes our shades change so I mix shades if I'm a little darker or lighter or if I'll be in certain types of lighting.
I'm not really big on highlighter at all. I'm not really into shiny. But, Laura Mercier has an illuminating highlighter that's really good. It's a finishing powder that has a little bit of shimmer in it.
How do you remove your makeup at night?
Burt's Bees facial wipes. They're my go-to. I go between the pink and the orange one. I think the pink one is grapefruit and the orange is like a peach or nectar.
Karrueche's Favorite Beauty Products
Karrueche says skin compliments have been rolling in ever since she started using this serum.
She calls it "perfect" and not too heavy or oily.
A go-to at night for removing make-up.
She does a lot of masks, and this is one of her favorites.
Karrueche regularly steams her face to open up her pores. Reviewers praise this one for the fine mist that isn't too hot.
She likes this foundation, which gives a matte finish, for oily skin.
A scalp oil that she likes to keep winter dryness at bay. She leaves this in for up to two days.
This interview has been edited and condensed.
If you buy something through our links, New York may earn an affiliate commission.