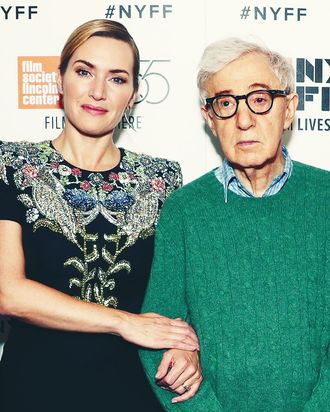 Kate Winslet and Woody Allen.
Photo: Todd Williamson/Getty Images for Amazon Studios
Kate Winslet is currently campaigning for an Oscar nomination for her work in Woody Allen's latest, Wonder Wheel. This means she is doing a lot of interviews, some of which have been more successful than others. In this climate, it's hard to talk about how much you enjoyed working with an accused sexual abuser.
While Winslet has spoken out against Harvey Weinstein, she has been less eager to engage with the fact that Allen's adoptive daughter Dylan Farrow maintains that Allen molested her when she was a child. In an interview with the Los Angeles Times in November, Winslet said of Allen's past, "At the end of the day, you look at the facts. He's an 81-year-old man who went through a two-year court case. As far as I know, he wasn't convicted of anything. I'm an actor; he's a director. I don't know his family. I've heard and read exactly what you've heard and read. I know as much as you do. That's all I can say."
Now, reporters aren't even asking her about the accusations. In her latest interview with the Sydney Morning Herald, Winslet instead talked about how amazing Allen is at developing female characters. "I think on some level Woody is a woman," she said. "I just think he's very in touch with that side of himself. He understands the female characters he creates exceptionally well. His female characters are always so rich and large and honest in terms of how they're feeling and he just knows how to write dialogue for them to communicate all that."
To be fair, many actresses have struggled to come up with things to say about Allen in light of his history. Last year, while promoting his film Cafe Society at Cannes, Blake Lively got herself so turned around that she told reporters she thought Allen was "empowering to women."