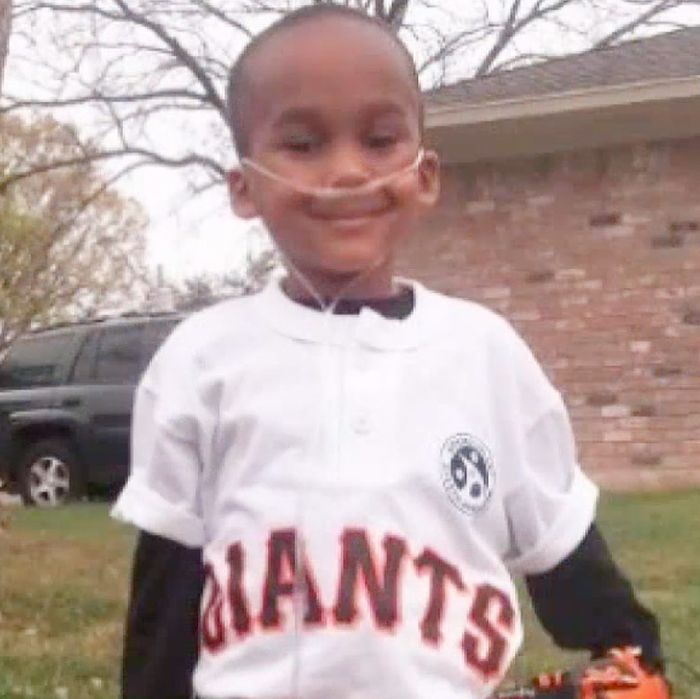 Christopher Bowen.
Photo: Courtesy of NBC
A mother in Dallas, Texas, was arrested last week for allegedly subjecting her 8-year-old son to hundreds of doctor's visits and more than a dozen major surgeries — when in reality, it appears that the young boy wasn't even ill in the first place.
Kaylene Bowen, 34, allegedly claimed her son, Christopher, had terminal cancer, was in need of a lung transplant, suffered from a milk allergy, and a number of other ailments, NBC-5 reports. She took Christopher to see doctors 323 times, and the little boy had 13 major surgeries as a result. Yet, after a recent investigation, a child welfare caseworker concluded, "The doctors do not find Christopher to be sick."
Bowen is now facing a felony charge of injury to a child. The boy's father, Ryan Crawford, told NBC-5 that he believes Bowen suffers from Munchausen's syndrome by proxy — an illness that was memorably featured in a viral true crime Buzzfeed story last year. Caregivers are diagnosed with the illness when they make up false symptoms of sickness about another person in order to gain attention.
Crawford, who is not in a relationship with Bowen anymore, said he had been trying to convince authorities that she had been making up Christopher's illness for years. Bowen apparently began claiming the boy was sick just eight days after giving birth — alleging that he kept throwing up milk (Crawford said he never saw that happen) and later telling a judge in a custody hearing that Christopher might never walk and that he needed a feeding tube. "The issues escalated to eventually she claimed that my son was dying," Crawford said.
Bowen reportedly raised thousands of dollars online to cover Christopher's medical expenses. Child protective services began to suspect something was up when she brought Christopher into the hospital last month, alleging he had a seizure, when medical tests found no evidence of one. After that, an investigation was conducted, and Christopher is now in foster care.