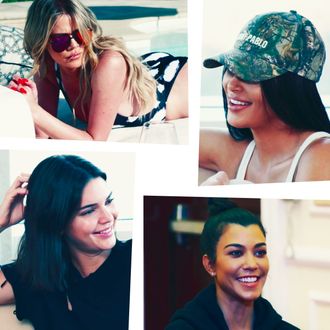 Photo: Courtesy of E! Entertainment
On last night's mid-season finale of Keeping Up With the Kardashians, our A-plot was family media training (or the art of keeping your cool in interviews), our B-plot was family business, and our C-plot was Kendall Jenner. It's the last episode of the year, so I hope this tides you over until 2018: #LEGGO.
Scene 2:
We begin with the oldest and youngest Kardashian daughters, Kourtney and Khloé, gabbing poolside about all things fitness. With wine on hand, the ladies dissect their morning workouts, with Kourtney being particularly impressed with how her trainer went "deep" into her abs and butt. They soon move on to discussing how their love of fitness could be developed into a video for their fans. For a while now, the two most active (on Snapchat) fitness fiends in Calabasas have wondered if they should film a workout video for their loyal followers. They agree to start brainstorming. After their business convo, Kourtney gets up to take a photo of Khloé's undercarriage. This scene was filmed on November 15, 2017.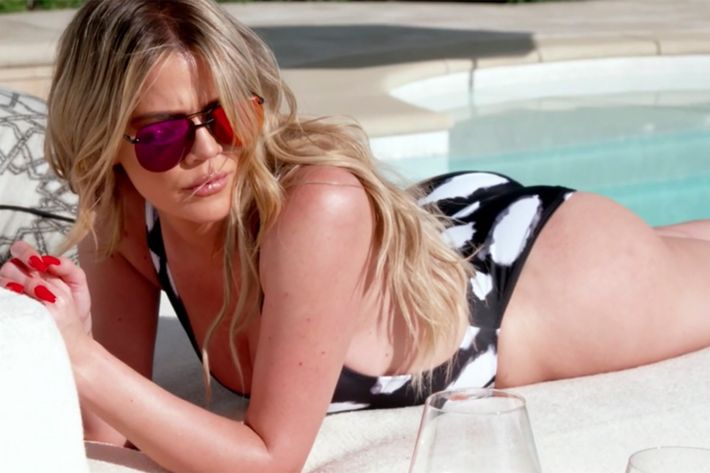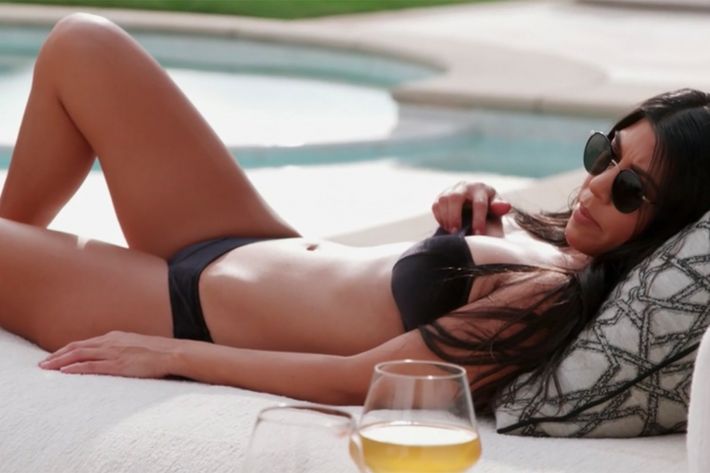 Scene 4:
Kourtney and Khloé Kardashian, still serious about teaming up for a fitness video, book some studio space. Khloé's in a full bodysuit, while Kourtney opts to wear bike-short realness for their glorified playdate in a dance room. To start, Kourtney tries to show Khloé how to do a modified cartwheel (she fails), and then they think about some stretches for the beginning of their video. Khloé begins to stretch her legs, and Kourtney stretches her back with a series of cat/cow positions. I'll bet even their crew is unsure about what this could possibly be accomplishing, especially when Kourtney suggests they start their video telling viewers to stretch in whatever fashion they want. After stretching, the ladies try out some chest shimmies and neck rolls. Khloé thinks of the clever idea to add "sex noises" to their routine, to make it a bit more fun.
After not breaking a sweat or getting anywhere with content for the video, the sisters break down the realistic future of this project. Kourtney thinks they can finance it themselves, while Khloé thinks that's unreasonable. So, they abandon the idea of a video, and instead decide to work on a fitness line because people love their fitness looks as much as their moves on Snapchat. The only thing is that Khloé's already been working on a fitness line with her denim company Good American. But she is willing to put that on hold so that she can work with Kourtney on a sister fitness clothing line. Kourtney loves this idea. And though Khloé feels bad having wasted time and money on Good American ideas, she loves working with her sister — putting aside her clothing line is a sacrifice she's willing to make. This scene was filmed on June 23, 2017, seven months after Khloé and Kourtney decided to do a video in the first place.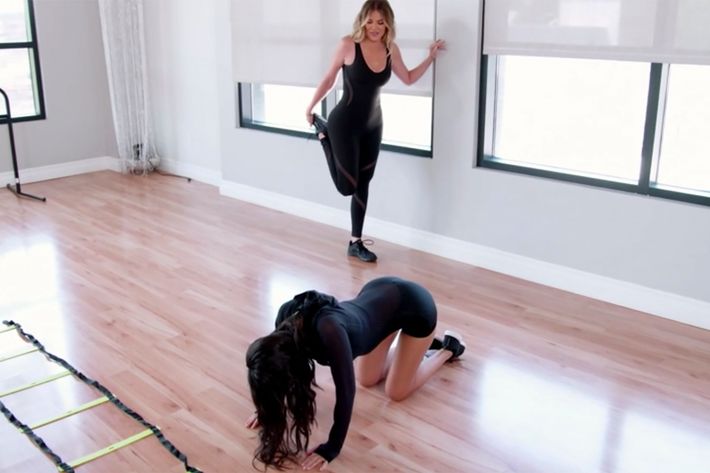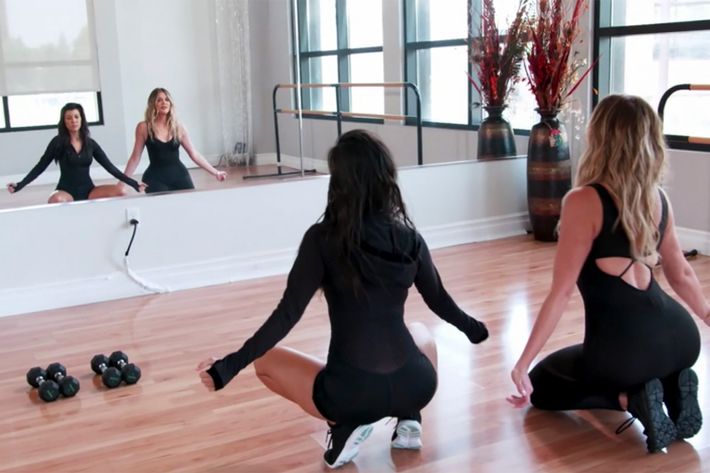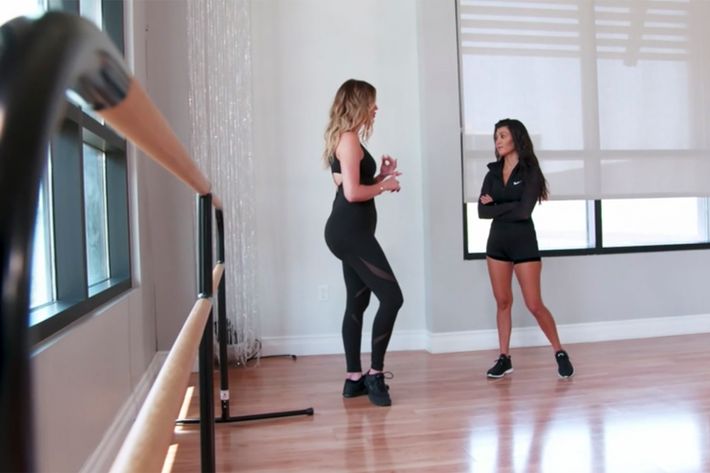 Scene 7:
At a Los Angeles–area hotel, Kris Jenner and all of her daughters — minus Kylie — get some good old-fashioned media training. In a scene that takes up the bulk of the episode, the women sit with Jen Fukui and Bill McGowan of New York City's Clarity Media Group. Kim set this training up because she believes that as their family brand grows, so should their family interview skills. Unlike Kim, Kourtney and Khloé are worried that media training will make them appear inauthentic, while Kris is opposed because she's resolved never to do press again after the ongoing drama and speculation about what she did or didn't know about Caitlyn's gender identity when they were married.
Still, everyone agreed to show up, and they were put through the wringer by Clarity's most clear-minded leaders. Blessed are we, for we're shown some of the toughest entertainment soldiers being put through bootcamp. Peeking behind the curtain, we see them arm themselves with the weapon of elusiveness and straight-to-the-point answers that allow for no follow-up. They show us their weaknesses, so even in the moment, we know they are still stronger than us. We're dragged along by the tips of our toenails through the forest of their silence on Kylie and Khloé's pregnancies, despite their obvious absence from daily life and the possible reflection of maternity pillows in Khloé's sunglasses. Even in their weakness, they're stronger than us. They win.
Nonetheless, Jen and Bill run through mock interviews with the family, first as a group, and then individually (all but Kim!). Kim says her family members should treat Jen and Bill like Megyn Kelly and Piers Morgan, which they don't. But they do treat the mock setup like the real deal: They're asked tough questions about Caitlyn, Rob, Scott's drinking, how Kourtney's kids might react to difficult footage later in life ("I'll tell them it's fake!"), and even Kendall's Pepsi ad. After each interview, the family watches the tape back with Bill and Jen, who critique everything from their posture, eyes, expressions, and filler words when faced with tough or uncomfortable questions.
Kendall, who is super-agitated after a "hypothetical" about what she would have done over again regarding her Pepsi ad, lashes out at her sisters, saying that they've never had a scandal of that magnitude and would never know how to respond. This, plus a text message fight with Kylie about a friend's carnival-themed birthday party, sends Kendall over the edge, and she storms out. Kris, on the other hand, learns how to be more publicly honest about her feelings on Caitlyn. This genuinely remarkable scene was filmed on August 29, 2017.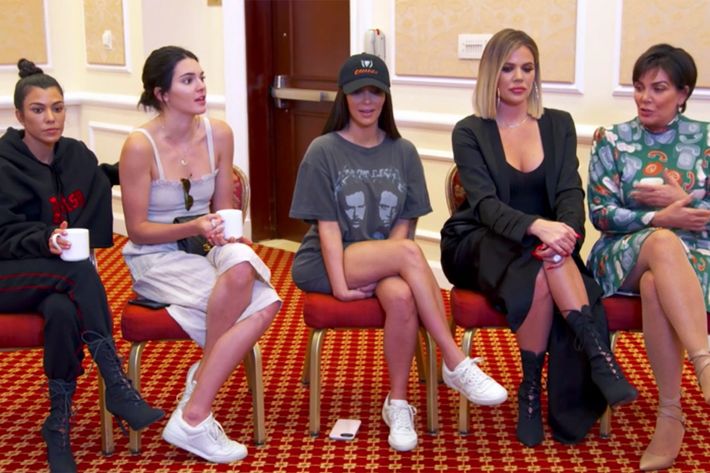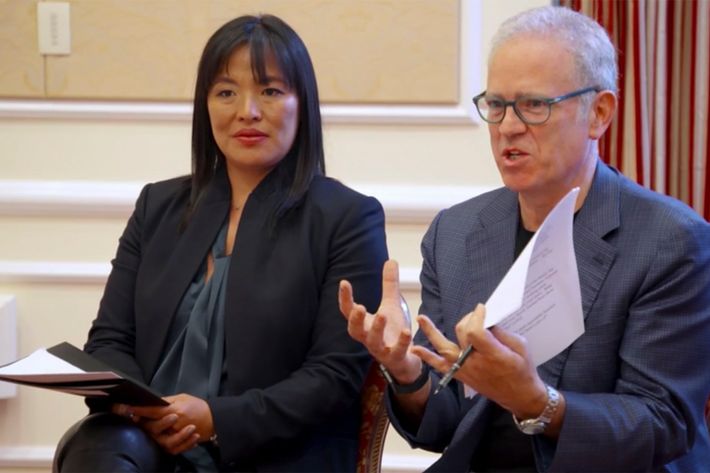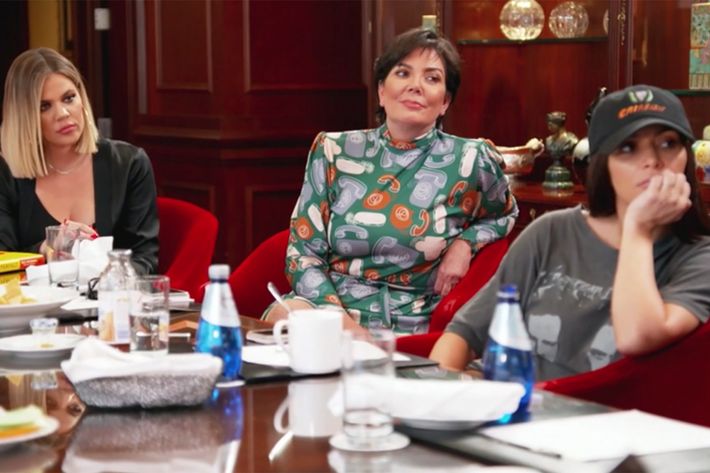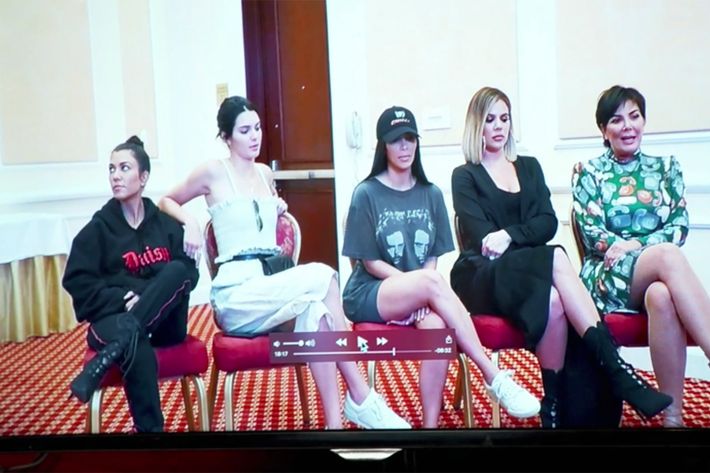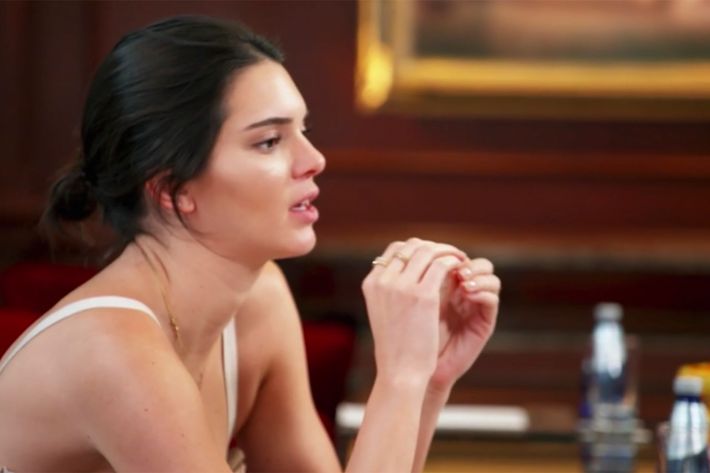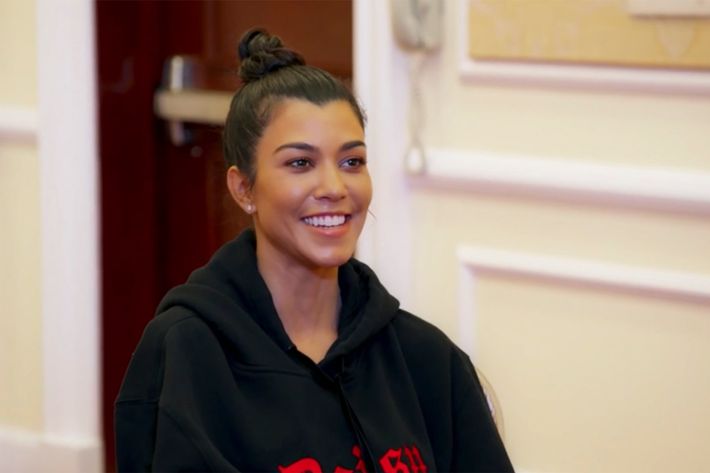 Scene 8:
Kourtney and Khloé are trying to make headway on their workout wear line, but they've already hit some bumps in the road. During a workout with Kim, the sisters clash over pants.
Kourtney thinks they should visit (alleged) rapist Russell Simmons's yoga-clothes factory and look for the very best materials. Khloé agrees that they should be finding the best manufacturers and distributors, which is why she sent Kourtney a pair of workout pants to try out (from a manufacturer she has an in with). Kourtney says she didn't like the print, so she didn't give them a second thought. This irritates Khloé — she gave Kourtney the pants to inspect the material, not the design. Kim, who has no part in this business venture, looks on, happy that she's only willing collaborate with professional hibernator and Lip Kit savant Kylie. This scene was filmed on March 1, 2017, two months before Khloé and Kourtney decided to launch an athleisure line on June 23 in Scene 4.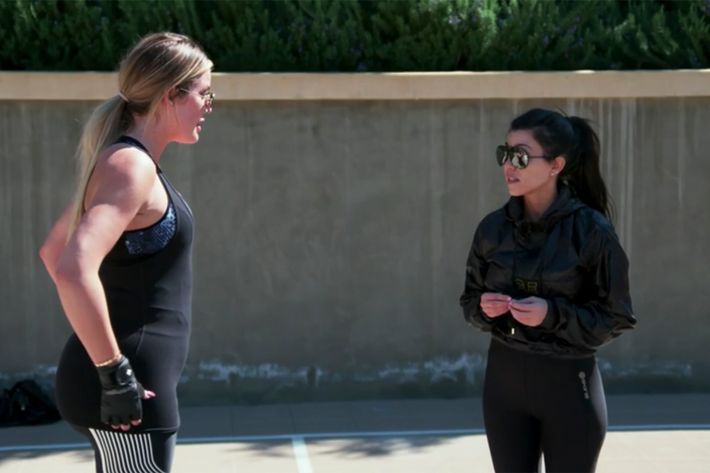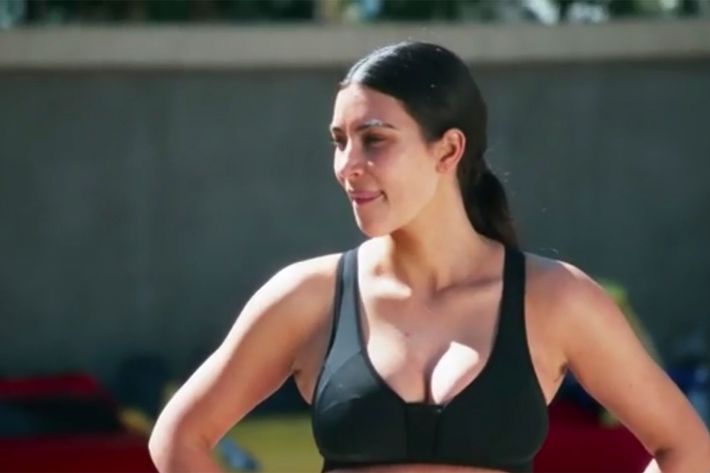 Scene 9:
Following their workout spat, Khloé makes the hard choice to sever ties with Kourtney, business wise. Khloé thought that Kourtney, who doesn't have as much as she does on her plate professionally, would step up more, but she hasn't. Now, especially with her athleisure line on hold, Khloé thinks it's best to call it quits. Shockingly, Kourtney agrees, explaining that she puts more of her focus on being a mom. Khloé's impressed by Kourtney's reaction. She says that Kourtney's like Nate Dogg, in that she's best in a group ("on the hook") when she's not taking any leads for herself. The sisters also chat with Kourtney's youngest and cutest child Reign for a bit, as he explains his "monster" imaginary friend. This scene was filmed on August 1, 2017, five months after their fight in Scene 8 on March and a month and a half after they "decided" to create their athleisure line on June 23 in Scene 4. I'm thinking the only kind of line they should invest in is a logical timeline.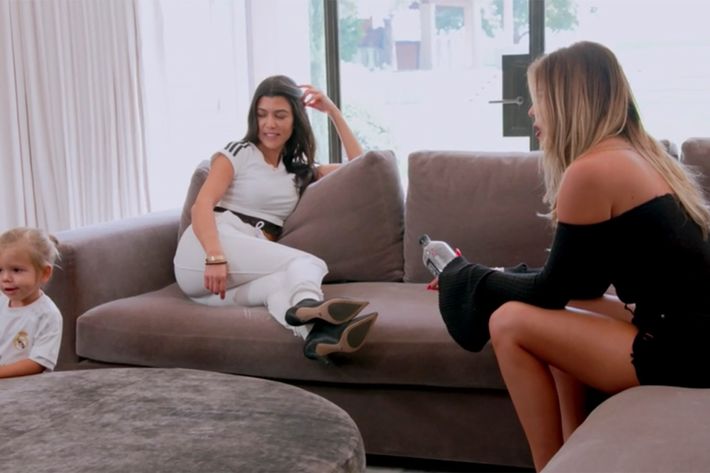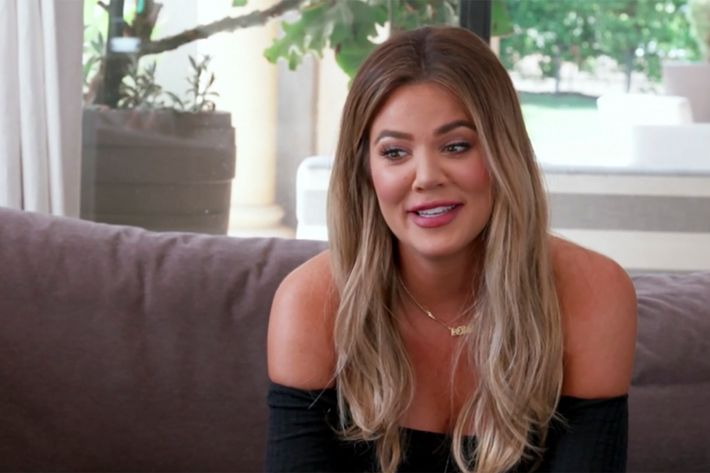 Scene 12:
In the final scene of the night, a sickly Kim Kardashian West lends her talents to help Kendall Jenner wrap up her "fighting with Kylie" story line. Kourtney is also on hand to help out in any way she can. As Kendall has mentioned in the episode, she and Kylie are planning a birthday party for a nameless friend, and while Kendall wanted it to be low-key, Kylie wanted it to be a literal carnival. Kim asks if they settled their battle, and Kendall said they did — they're throwing a carnival. In fact, Kylie came over the night before, helped Kendall cook dinner for 20 people, and even spent the night. They may fight, like, all the time, but they are sisters, says Kendall. This scene was filmed on August 30, 2017.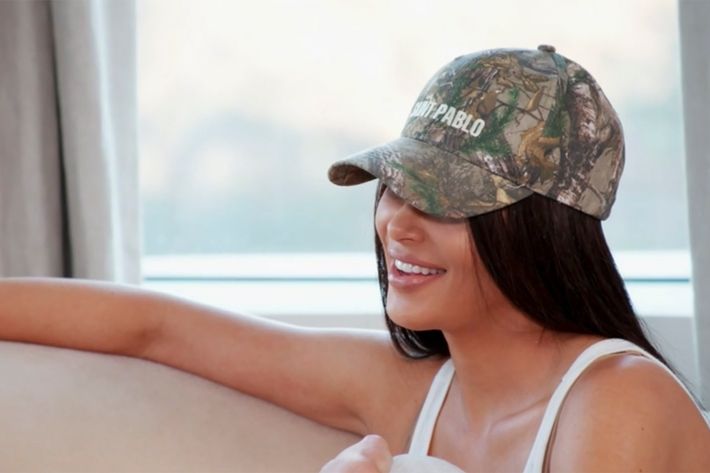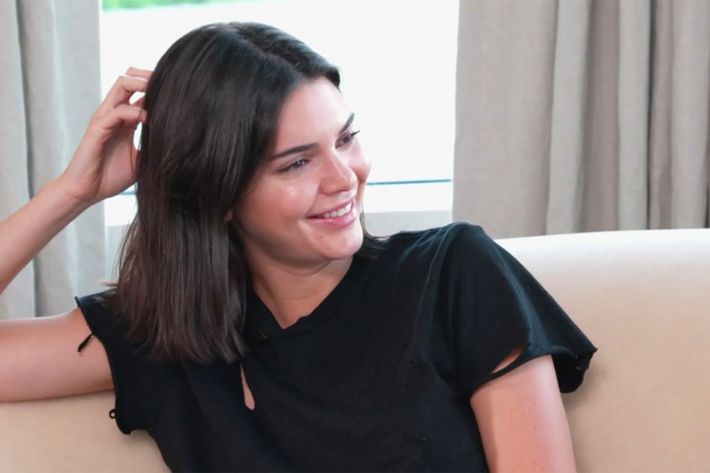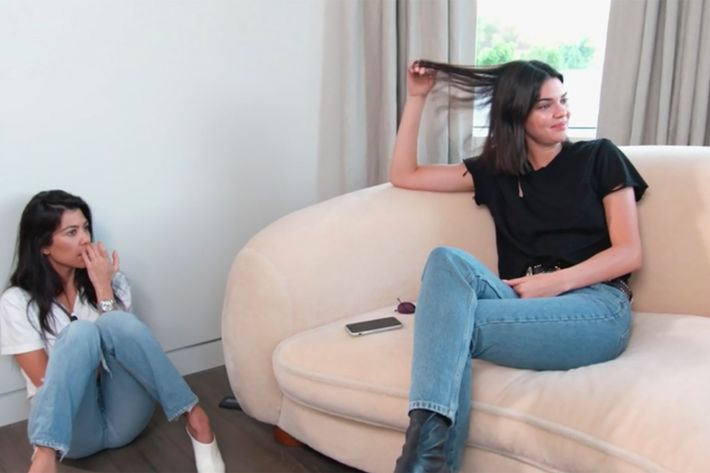 That's it for 2017, Dolls. I'll catch you in the new year, January 8, 2018, to be exact, for another #KUWTKE recap of Keeping Up With Where's Kylie. #MEDIATRAINME