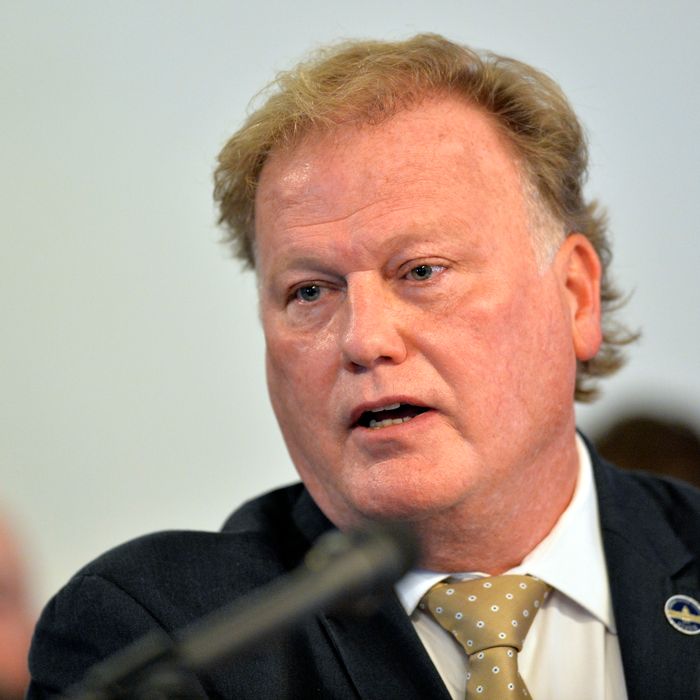 Dan Johnson.
Photo: Timothy D. Easley/AP
A Kentucky lawmaker accused of sexual assault appears to have committed suicide. According to local authorities, Republican state representative Dan Johnson shot himself on a bridge in Mt. Washington, Kentucky, early Wednesday evening. WDRB reports that police officers went looking for Johnson after he made a Facebook post indicating that he intended to take his own life.
Johnson's death came two days after the Kentucky Center for Investigative Reporting published an investigation detailing the claim that he sexually assaulted a 17-year-old girl in 2013. According to the alleged victim, the assault took place at the Heart of Fire City Church, where she was having a sleepover with Johnson's daughter. The woman said that Johnson, a preacher at the church, drunkenly woke her up and proceeded to kiss her, grope her, and put his finger in her vagina. "He told her she'd like it. She said no, she didn't. She pleaded with him: go away, go away," the KCIR reported. "Eventually, he did." She and her parents informed the police of the attack, but nothing ever came of it.
Following calls for his resignation, Johnson told reporters, "This allegation concerning this lady, this young girl, absolutely has no merit, these are unfounded accusations, totally." "This is an assault on all real people," he added. "There's no perfect people and you get into office and all of sudden political hacks come against you and start accusing you after you're in office."
The KCIR report also linked Johnson to two arson incidents and suggested that he had lied under oath. Additionally, it questioned why Kentucky's political leaders hadn't done more to prevent his election after he was found to have made racist Facebook posts.