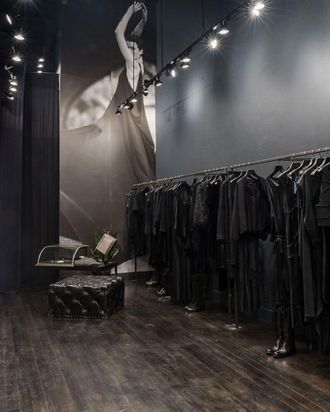 It's no surprise that a store known for minimalism and sustainability would attract customers like Solange and Gwyneth Paltrow, but KES is perhaps not a name you know. Yet.
Designer and owner Lia Kes Berman opened her first namesake location in 2014 on the Upper West Side (where she lives), as she felt there was a need for a "refined yet casual" women's concept store in the neighborhood. She was inspired by her upbringing on a kibbutz in Israel, which required simple, practical clothing. Four years later, her brand is opening its third location right across Central Park with the same tenets of design, as well as a curated roster of outside brands like Numero 10, Anne Vest, and Isabel Benenato.
"My stores are intended to give the KES woman a pause from the chaos of everyday life, to serve her style needs, intellect, and sensuality," says Kes Berman. With dark-wood floors, black curtains, and a wall entirely devoted to all-black pieces, it seems like a sanctuary for any New Yorker.
The KES Upper East Side boutique is located at 1184 Madison Avenue and open from 10 a.m. to 7 p.m. Monday through Saturday; Sundays from 12 p.m. to 6 p.m..