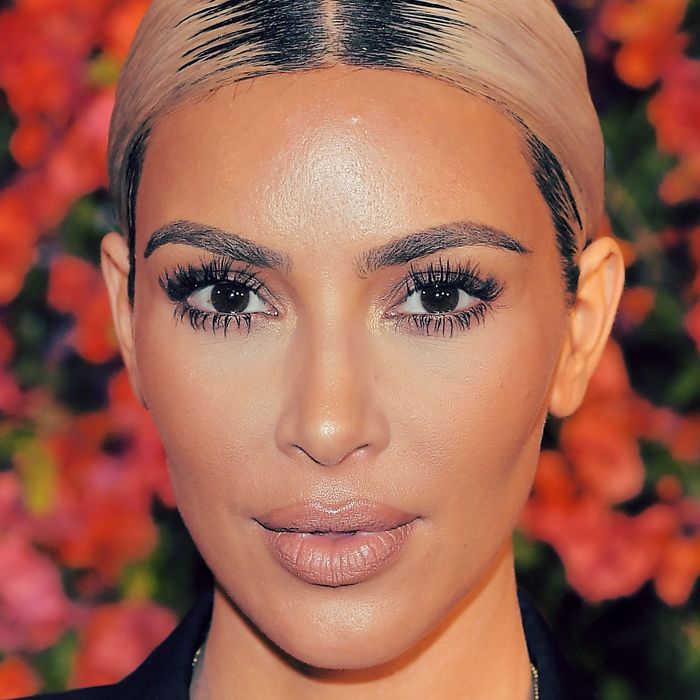 Kim Kardashian.
Photo: 2017 Getty Images
Earlier this year, Kim Kardashian launched her kids label, Kid Supply, for eager parents wanting to dress their spawn like North and Saint West. Mostly, it's Calabasas-themed bomber jackets, matching sweatsuits and ruched slip dresses.
However, Diet Prada noticed that the label also features direct mini-copies of two pieces by Vetements' Demna Gvasalia and Commes des Garçon's Rei Kawakubo. In a post titled "Kim des Garçons," the Instagram critics wrote "Just when we thought you may have rocked the glitter better than Bey, you had to go and rip an extremely limited edition @commedesgarcons x Kosho & Co souvenir jacket for your @thekidssupplyline AND that one-of-a-kind custom sequin @vetements_official dress made specially for North. Great message for the little ones!"
But a spokesperson for Kids Supply says it's all just a big misunderstanding. Both pieces (which are not yet for sale on the Kids Supply site) will be named after their respective designers, and the proceeds from those two pieces will go to the Children's Hospital of Los Angeles. According Page Six, this all was ostensibly decided before the backlash.
"We decided to release the Demna dress after making one on our own for North because it got such a great reaction and an overflow of people wanting it for their own children," the rep said. "We named it the Demna dress to pay homage to him as it was one of Kim and North's favorite mommy and me moments." A great line for any future copycat to use.