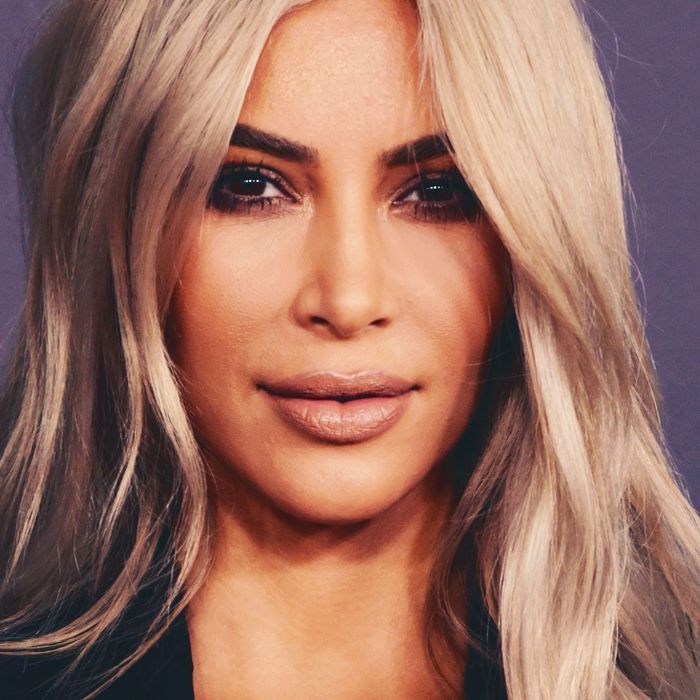 Kim Kardashian.
Photo: TARA ZIEMBA/AFP/Getty Images
The forever wise Kim Kardashian will soon be evolving into one of those mythological beings who lives "in the moment," as she has announced that in 2018, she's spending less time on her phone. Cheers to sanity!
According to Page Six, Kardashian acknowledged that gripping your phone like a security blanket is maybe not the best for your health. Therefore, she chose to make her personal misery machine the subject of her New Year's resolution.
"My New Year's resolution is to be on my phone less and be more in the moment," she wrote on her website.
Earlier this year, Kardashian blamed being robbed at gunpoint in Paris on her social-media activity. After the attack in late 2016, she disappeared from the apps for three months and didn't open up about the incident until a highly anticipated episode of Keeping Up With the Kardashians.
"I was Snapchatting that I was home and that everyone was going out," she said. "So I think they knew [bodyguard Pascal Duvier] was out with Kourtney and that I was there by myself. They had to have known we were leaving that I was there by myself."
While the incident undoubtedly traumatized Kardashian, she was able to find peace during her social-media recess, which she has unsurprisingly missed. Plus, her third child with Kanye is due any day now. In the meantime, we'll all be sitting here, staring at our phones until our eyes bleed, waiting for Kardashian to post the rare baby pic.