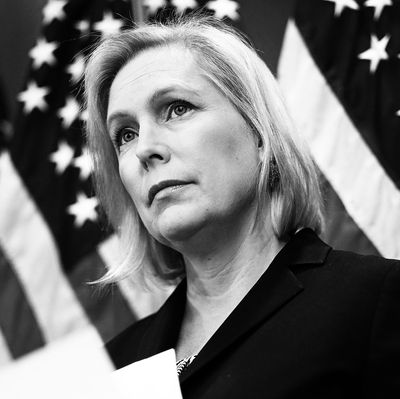 Kirsten Gillibrand.
Photo: Alex Wong/Getty Images
Trump, who's no stranger to inappropriate tweets, fired off an especially disgusting one about Senator Kirsten Gillibrand yesterday. Angered that the New York senator had called for his resignation, Trump called her a "lightweight" who "would do anything" for campaign contributions, a statement that many interpreted as a sexual innuendo and a blatant example of sexual harassment. Appearing on NBC's Today show on Wednesday, Gillibrand said she also took it that way, The Hill reports.
Though Gillibrand has been vocal in condemning the rampant sexual misconduct on Capitol Hill, it was just earlier this week that she joined senators Cory Booker and Jeff Merkley to direct a call to resign at Trump, who has been accused of everything from harassment to rape by an overwhelmingly large number of women. It was Gillibrand's call that pushed Trump over the edge, leading him to send the aforementioned tweet. This morning, Gillibrand went on Today to offer her reading of it.
"It was certainly just a sexist smear intended to silence me," Gillibrand said. "The president says whatever he wants whenever he wants. I don't think that level of discourse, however, is what this country wants."
While Trump was quick to condemn the actions of Al Franken — or "Al Frankenstien" [sic] — who resigned from his position as senator of Minnesota amid sexual-misconduct allegations, he is not one to believe sexual misconduct accusations — unless it's politically convenient for him. Trump certainly denies all the allegations against him, which Gillibrand pointed out this morning.
"I think what he has done is unacceptable and if you put that in the context of multiple accusers who have accused him of sexual assault and sexual harassment that are credible, you need accountability," Gillibrand said.
She ended her appearance by once again calling for Trump's resignation.