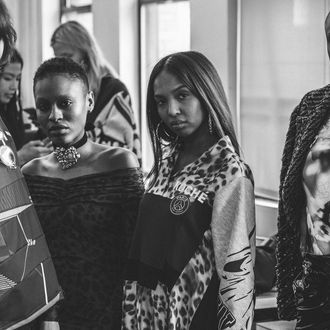 Backstage at Koché pre-fall 2018. Shot with iPhone X
On Tuesday afternoon, Christelle Kocher, the young French designer behind Koché, was hiding out in the Erotica section of New York's Strand bookstore. She was seeking some peace and quiet in a space that only minutes before had been flooded with holiday shoppers — and fashion models.
For Koché's pre-fall 2018 presentation, Kocher took over the entire Strand building, staging a formal runway show for editors, buyers, stylists, and friends in the Rare Books Room upstairs. In the finale, models made their way guerrilla-style through the crowd in the store below, each holding a different novel in their arms. Fitting titles included On Beauty by Zadie Smith; Attack of the 50 Ft. Woman, a book on gender equality; and Please Kill Me, an oral history of punk. Show-goers were each given a different used book to take home as a souvenir, rather than the usual bottle of perfume or branded baseball cap.
New Yorkers are known for their unique ability to walk quickly and read at the same time, but it's safe to say that these models did not blend in well, with their colorful tracksuits, ornate feather embellishments covered in spray paint, and oversize jewelry. Kocher wanted to bring a little French ooh la la to New York, seeing that this was her first show in the States since founding Koché in 2015.
"There's a lot of collage in my clothes," said Kocher, while leaning up against an X-rated art book. "The collection was really New York meets Paris," she explained. "I was able to do more casual looks with the help of Woolmark, and then there was also a lot of French character, confidence, and feminine attitude."
Previously, Kocher has staged runway shows in the streets of Paris and Tokyo, but she says she has always felt a personal, creative connection to New York culture. And what better way to immerse herself than to share a room with the likes of Edith Wharton, Joan Didion, and Truman Capote?
"I love the energy and the freedom of the way people dress," Kocher said of New York City. "The entrepreneurial spirit also gave me a lot of energy to start my brand," she added, having visited numerous times in the past while working at Bottega Veneta. "I wanted to feel that. And now the brand is developing, so here we are."
As for the setting, Kocher is an avid reader and book collector herself. "Every time I come to New York, I stop and buy a book," she said, lamenting the medium's recent decline in cultural capital. "I think in the time of Amazon, people are losing a connection to the book," she added. "But it's a symbol of culture. There's something really populist about it; it makes culture accessible."
In preparation for her runway show at the Strand, Kocher started reading authors like Patti Smith (who once worked at Strand), Don DeLillo, and David Foster Wallace, plus texts to educate herself on the current political climate in America. As her main inspiration, though, she cites The Darling — a historical novel by Russell Banks about the escapades of a radically political female student in the 1960s.
Although some onlookers turned their noses up at the idea of fashion adopting book culture, making reading seem somehow "trendy" in the process (one model even wore Strand merch), Kocher clearly did her research.
"I hope it's not just an accessory!" Kocher said with a laugh at the idea that fashion insiders will now tote novels around. "You should learn something, too."