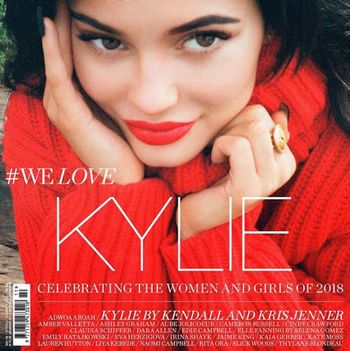 Kylie Jenner.
Photo: Instagram/kyliejenner
Probably pregnant Kylie Jenner, 20, appears on the latest cover of Love magazine — in a portrait taken by her supermodel-slash-aspiring-photographer sister Kendall. On top of that, Kylie was also interviewed by her mother, Kris, in the issue.
This wasn't Kendall's first time serving as a photographer for the magazine; she previously photographed Cindy Crawford's model daughter, Kaia Gerber, for the cover of Love in July 2016. On Christmas Day, Kris shared the Kylie cover image on Instagram with the caption, "Kendall!!! I'm blown away you shot this gorgeous picture of your sister for Love Magazine!!! You look stunning Kylie!!!! So proud of you both."
According to People, Kris asks Kylie about her cosmetics brand in the interview. "I was just trying to keep up with myself. All businesses, every company, makes little mistakes here and there. Growing it in front of so many people all of a sudden was kind of hard," Kylie told her mom.
Kylie has yet to officially confirm her pregnancy — and the rest of the Kardashian-Jenner clan has been uncharacteristically tight-lipped about it. We can only assume that having the photo shoot and interview handled by family members was a way to manage the story — and to continue to position Kylie's cosmetics empire for sale.