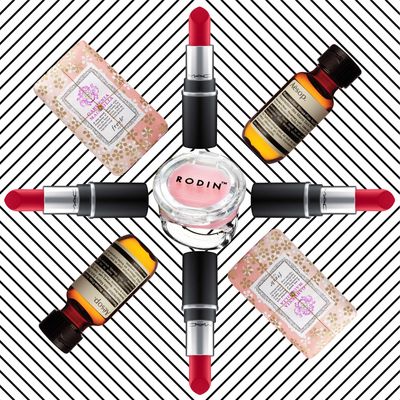 You have five days till it's Christmas, meaning it's now "Oh (insert expletive of choice)" time to get all your gifts. If you've procrastinated this long, chances are your budget is stretched as thin as your time, so we've made a handy guide to all the beauty products that make great gifts for under $15. Here are more great tiny presents, cute stocking stuffers, and great travel kits, for any remaining office parties and holiday events where cheap gifts are a must.
For Someone Who Loves Self-Care
Give the gift of well-moisturized under-eyes and looking like you're not stressed at all by the holidays.
For the Woman Who Loves Big Reds and Small Bags
Eep! This lipstick may be mini but it's still large enough to be functional. It comes in some of M.A.C's most legendary shades including Russian Red and Velvet Teddy.
Never again dig through a crusty purse in search of a dry-lip cure. Trust Linda Rodin to have invented a cuter way to do lip balm touch-ups.
Aesop kindly calls its hand sanitizer a "rinse-free hand wash." This tiny bottle is a nice way to disguise that you're a clean-freak.
For the Person You Don't Know Too Well But Want to Impress
What this mini soap lacks in size, it makes up in fragrant, almond-cookie smell. It even contains small bits of ground almond shell to gently exfoliate. Buy a few and wrap them together.
For Someone Who Loves Luxury But Won't Buy It for Themselves
This pillowy soft Japanese cotton is the Charmin of cotton face wipes. Not really necessary, but so, so nice.
For Someone Who Travels a Lot
Experts tell you to decant your tried-and-true beauty products into special containers for when you travel. Regular people know that's annoying. This TSA-approved kit contains shampoo, conditioner, and cleanser.
For Someone With a Fancy Bathroom
Anybody who has a nice bathroom cares about showcasing a new, sweet-scented bar of soap when people come over. This one also looks great left wrapped and sitting on a shelf, plus the scent will still come through the paper.
For the Person Who Loves to Moisturize
These creamy body butters from Soap & Glory have amassed a cult-following similar to the The Body Shop Body Butter craze of the '90s. They dry fast, absorb quickly, and are pleasant, but not overpowering.
For the Friend Who Loves a Selfie
A tiny bronzer that won't stick out oddly in your makeup bag, and can give your face a tiny bit of healthy, "I've been in the sun"–glow at a moment's notice.
For Someone Who Loves to Look More Fancy Than She Is
Most candles come at very bougie prices. This one gives off serious bougie-vibes (scented of gardenia with a hint of mysterious clove), but is affordable.
For the Person Who Craves Perfect Hair Days
The name smartly explains it all: A perfect hair day starts with a good shampoo and conditioner. Add a styling lotion formulated with a special molecule (OFPMA) that actually repels dirt, and you're good to go.
For Someone Who Loves to Selfie in a Mask
For the DIY spa enthusiast, consider this set of mud masks. Available in five, single-use variations (primrose oil, grapefruit, coconut, cucumber, and charcoal), they combat dry, rough skin.
If you buy something through our links, New York may earn an affiliate commission.