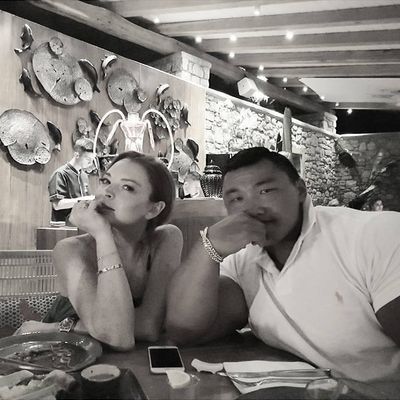 Lindsay Lohan and Je-yong Ha
Photo: koreanhulk/Instagram
Over the past couple of years, Lindsay Lohan's life has taken a number of exciting and unexpected turns. She's dabbled in diplomacy, lifestyle blogging, prank show–hosting, and has experimented with fun new accents. But perhaps the most exciting development so far is her new friendship with Je-yong Ha, a wealthy Korean arm-wrestler whose hobbies, based on his Instagram (@koreanhulk), include wearing expensive watches, lifting, flying on private planes, and consuming medically questionable amounts of beluga caviar.
(Seriously, this guys eats so much beluga caviar — he eats caviar omelettes, little caviar bites, shoe box–sized containers of caviar, and caviar soups, just to name a few.)
Relatively little is known about Ha. From what Vulture could ascertain, he's 29, lives in Russia, is ranked ninth in the Korean Arm Wrestling Federation, and works promoting a private karaoke room company called Mate M Box. He and Lohan seem to have met this summer on the Greek Island of Mykonos, where they went clubbing, scolded beggars, and repeatedly shouted the phrase "Mykonos fucks Ibiza!" Fun!
Despite their chummy Instagrams, a friend of Lohan's told Vanity Fair "Lol they are 100% percent not dating at all. They're just friends," which is fine because we still get to enjoy Ha's posts, like this one of Lohan singing along to a Russian song.
Whether they are a couple or not, it's nice to see that Ha and Lohan's friendship is built on the foundations of any healthy relationship: partying, conspicuous consumption, and funny hats.
Cheers!