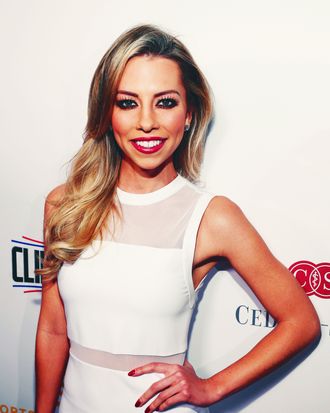 Photo: Rich Polk/Getty Images
"Do you plan on getting knocked up immediately like the rest of them?" That's what Lindsay McCormick, a former reporter for NFL Network, says she was asked by a male hiring manager when she was being interviewed for her position. Now that's one way to not bring up maternity leave, and make female candidates feel completely unwelcome.
The casually discriminatory question, which occurred in the final interview round before McCormick was hired, didn't scare her off. She shared her experience with sexism at the company on Instagram after the employer was recently hit with a sexual-harassment and assault lawsuit. In her post, McCormick applauded NFL Network for firing the man responsible for the sexist remark and responding to other allegations this week. While gender discrimination in sports media is no secret, the broadcaster said she'd wished she'd spoken up sooner. Read the full comment below:
I've been quiet about this for too long. In my last interview with NFL Network a few years ago, the head of hiring talent said to me, 'If we hire you, do you plan on getting knocked up immediately like the rest of them?' 'Them' as in badass working women who deserve to have a family life as well? 'Them' as the women who work their tails off to be taken seriously in a man's world? Or 'them' who bring you a new audience and a tremendous amount of viewership? Because while I don't plan on 'getting knocked up,' I do plan on being like the rest of those brilliant women that our future daughters will one day look up to and see you can have it all.

Kudos to NFL Network for eventually removing this man from his position and for the actions they've taken this week.