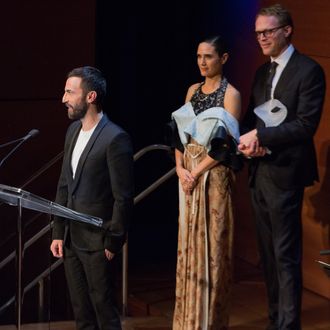 Nicolas Ghesquière, Jennifer Connelly, and Paul Bettany.
Photo: Carl Timpone/BFA
On Thursday night, Louis Vuitton women's artistic director Nicolas Ghesquière was honored with the Women's Leadership Award at the Lincoln Center Corporate Fund Fashion Gala hosted by Hearst and Harper's Bazaar.
Harper's Bazaar editor-in-chief Glenda Bailey presented the award, noting Ghesquière's love not only for fashion, but also the fantasy of Star Wars and Stranger Things. Longtime friends and admirers Jennifer Connelly and husband Paul Bettany also sung Ghesquière's praises, while stars like Nicole Kidman, Michelle Williams, Jaden Smith, Sophie Turner, Ruth Negga, and Laura Harrier cheered from the crowd. Connelly thanked Ghesquière for designing boots she could stand all night in.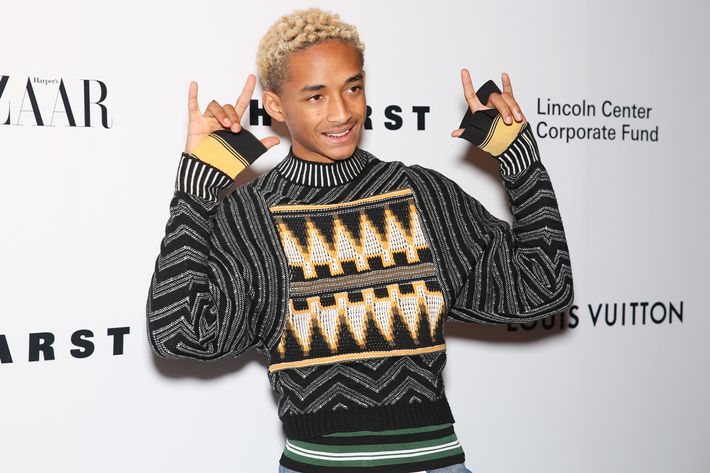 When Ghesquière came up to accept his award, he made two standout notes. The first was a tribute to the late designer, Azzedine Alaïa, who he cited as an inspiration. And the second was a firm stance against sexual harassment — something not many designers have done publicly themselves since the fallout of Harvey Weinstein. Below, an excerpt from Ghesquière's acceptance speech:
I think it's important to note that from its inception 150 years ago, as a brand that made innovative trunks, Louis Vuitton has always been a proudly global brand, and has always held the firm belief that the world is interconnected, interlinked, and to be shared by all. As an artistic director of women's collections, I'm proud to say that these are my beliefs as well. Another important belief for me is equality. One of the best opportunities that my work has given me is the possibility to meet extraordinary women of all kinds. I design to please women; to make them happy. Today, in this moment of reckoning, I want to express my full support in the battle against abuse of any kind. I want every woman to know that I'm standing by their side to safeguard their freedom, and their dignity.
Following the award ceremony, the French musical artist Woodkid performed, blending live orchestral music with digital engineering. As a special surprise, he invited actress Catherine Deneuve on stage to read a poem, closing out a powerful evening.