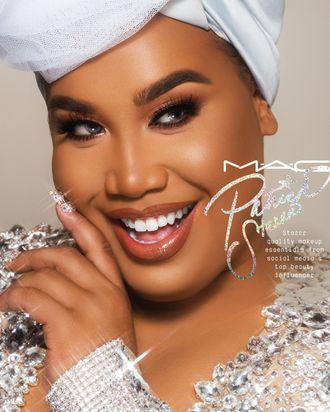 Patrick Starrr (not to be confused with the Spongebob character) is one of Instagram's biggest beauty influencers, with almost four million followers. He's applied makeup to Kim Kardashian, Katy Perry, and Tyra Banks on his YouTube channel. where his videos get over a million hits. And he just announced that he will be a judge on next season's America's Next Top Model — but first, he has a new collaboration with M.A.C to promote.
M.A.C x Patrick Starrr is one of the brand's biggest launches this year. The Cut talked to Starrr, who grew up in Florida, about navigating the world as a man in makeup, helping Instagram fight trolls, and responding to critics of Instagram beauty.
What was the first time you wore makeup?
I stole foundation from my mom's drawer, put it on, and locked myself in my room. Growing up, I was heavily inspired by The Swan, makeover shows, beauty pageants, America's Next Top Model, and all of that.
The first time my parents saw me with makeup was at a football game for my little brother who was in marching band. My mom saw me and said, "Your foundation is too orange." And I was like, "You're so rude! Why would you say that?"
They would sometimes say, "Oh, that's a little bit too much makeup." But they didn't bully me. Looking back, they were defending me from the naysayers, the others out there. They didn't kick me out as other parents might have. I remember the first time my mom said, "Your makeup looks nice." I had my chin up and said, "There it is. The compliment I've been waiting for my whole life."'
We've seen a gender-fluid movement this year. Where does makeup fall in that?
Makeup has no gender. Makeup is one size fits all. Makeup is for everyone. Makeup is no different from the food and clothes we wear — it's a craving and taste. You should put on whatever you're craving that day, whether it be red, blue, pink lipstick. It's a form of self expression and we shouldn't be bound by that one thing.
Some of the biggest beauty influencers this year have been men. Why do you think that is?
Men are new. We have had these beautiful iconic female beauties like Cleopatra, Marilyn Monroe, Audrey Hepburn — why not Patrick Starrrr, why not a man? We've seen the Marilyn red lipstick, the Sophia cat eye — why not a full face featuring a man?
It also sparks conversations. I'm different. I'm here with a great message that is inclusive. That M.A.C is backing someone so unconventional and different is beyond my wildest dreams.
We're also making money with meaning, which is more powerful. It's creating a message for kids who are bullied for being different or kids who don't have supportive parents. Mine, despite me being different from the typical Asian-American dynamic, are introducing me onstage. I hope seeing this and seeing me out there encourages other parents to do the same.
You stand out — you're gay and you're a man who wears makeup. How have you dealt with bullies, especially on social media?
Just ignore it. I introduced banned words to Instagram. They had a meeting with the top influencers at Disneyland where we talked about what we can change. I spoke to the founder and the Product Development team. I explained, with YouTube, as a gay male, I have been able to filter out negative words. I have a social responsibility to control what people see. I don't have that control on Instagram. And a month later, they implemented a system that banned words, too.
It's also my social responsibility to speak out about things like this. For anyone getting bullied, use these tools and block those words. It's one negative comment versus a hundred great comments. Make friends, delete comments.
I'm not afraid to delete comments. My Filipino mom is like, I deleted it for you. I'm like, Well, you deleted it on your end. And she's like No, I deleted it for you.
Classic makeup artists have been occasionally critical of Instagram makeup and Instagram makeup artists like yourselves. How would you respond to that criticism?
M.A.C artists have been at the forefront for years. I have an artist onstage with me that's been doing makeup for 13 to 14 years. I've been doing makeup for 5 to 6 years, not even half her time. This is my mission — to be able to showcase that talent with marketing.
Those [classic] artists can't complain. They have to market themselves like we have, and showcase their artistry. We have full coverage artistry — that's Instagram makeup. It's a new trend. It shouldn't be shamed; it should be embraced.
For them to not share their techniques and skills is doing us all a disservice. Their traditional way of makeup is not being showcased because they have too much pride in it. But I'm here to bring them onstage with me to show them to embrace social media and showcase skills.
This interview has been condensed and edited.
This is the Patrick Woo. There's Ruby Woo and Riri Woo, so I wanted a Patrick. Is that too vain of me? This red really complements those with a golden beige undertone. If you have a golden, olive tone then it will look great.
It's a little more bright than the Riri Woo and the finish is matte. The others were retromatte, which is tough on the lips during the winter season. This is a creamy matte, so it's more comfortable to wear.
This is a setting powder. It's a super fine, translucent, invisible, mattifying powder. It's very velvety and micronized. You can use it to bake and retouch throughout the day. Once it's used for your makeup to set, it's set. It will not move.
My favorite color in this palette is the new shade I created called OMGUAD. It's a beautiful champagne color. It's really velvety and shiny.
This shade is a mauve-y pink named for my mother. It's my favorite; I'm wearing it in my headshot. It's a beautiful "my lips but better" shade.
If you buy something through our links, New York may earn an affiliate commission.