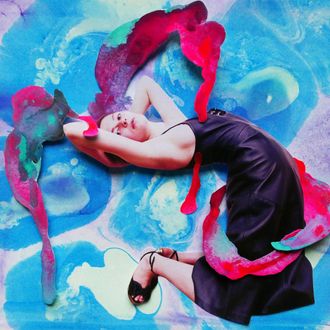 Photo-Illustration: The Push Pose
Get Madame Clairevoyant delivered every week.
Today, a new moon in Sagittarius. Then on Thursday, the sun leaves Sagittarius to move into Capricorn. Maybe you'll feel the Earth's gravity in a way you haven't before. Maybe you'll recognize your own body's wholeness for the first time. Even now, this late in the year, a bright new feeling can stir in your heart. How will you carry these blessings?
Aries: It isn't easy to move when the ground keeps changing under your feet, freezing and thawing again, hardening in the cold, then getting soft and muddy again. The sidewalks crack, and the roads freeze over, and it's okay to wish for something to remain consistent. You don't always have to want change, or be ready for it.
Taurus: If you aren't rushing headlong into the future, if you aren't flinging yourself forward in time and space, that doesn't mean you're just waiting around. You know this better than anyone, and still it can be hard not to judge your own movement against the speed of the world around you. Not traveling in all directions at once isn't the same as standing still. Maybe this week is for a quieter, more intentional kind of motion.
Gemini: This week, try to remember that you won't burst into flames if you look directly at the thing in your heart that scares you most. It won't turn you to stone to look at the things in yourself that feel like weakness. This week, your task isn't to make every moment feel good. It isn't a week for becoming perfect, but a week for the courage to see clearly.
Cancer: What do you do when the systems you need don't exist yet? What do you do when the structures to hold you up haven't yet been built? You might feel a hunger for some kind of foundation this week, for some kind of framework to make sense of things. If you look around and can't find what you need, you can dream, and you can plan, and you can build.
Leo: There can be value in feeling lost. There are things to be learned by forgetting yourself, by wandering into the forest until all you can hear is the empty sky and the quiet earth and the beating of your own small heart. And after you've remembered your innermost self, when you return from the wilderness, who will you choose to be responsible to?
Virgo: Whenever you move through the world, you're so aware of what's happening around you — the wind and the shadows, the traffic and the people. Your sense of direction is good. You know which way is north, and which way is home. This week, don't forget to pay attention to what's happening inside you, too. What is the point around which all your feelings orbit, the point that grounds all your actions? Is it fear? Is it anger? Is it love?
Libra: This isn't a week for living in the past, but it's still okay to glance over your shoulder if you need to. It's okay to grant yourself this reminder of the things you've survived already, the sorrows you've passed through to make it to this place. You're still alive and your blood still moves through your body and still you could drive yourself wild, thinking of all the wrong and unjust things that remain in the world. Just don't let yourself mourn the past forever.
Scorpio: It can feel almost impossible, sometimes, to do everything the world asks of you. You have to build and map this wild galaxy inside yourself, but you have to learn how to live in a world bigger than you are, too. How can you hold your own shape when the winds blow so powerfully, inside and outside of you? It won't be easy to find your way, but you will.
Sagittarius: Pay attention to the thing that's been on your mind these past few weeks. Pay attention to the ideas that have anchored you here on Earth, that have given weight to your movements and speed to your stride. It can be easy for you to keep thinking a thought, over and over, until it's been worn down to nothing. This week, remind yourself: The thing that's been on your mind doesn't have to live only in your head forever.
Capricorn: This week, the sky's energy might shift back into your favor. This doesn't mean that everything becomes easy, or that you'll escape all varieties of pain. It isn't always easy to be your best self, and sometimes the Earth's gravity itself seems set against you. Still, this week, the air might ease up around you. Remember, you don't have to wait around for the world to recognize you. This is your time.
Aquarius: It's easy to imagine that lessons must be learned in a linear manner, that once you've completed a level, you'll never have to return there again. Some days you really can feel time's forward movement, but often it's more recursive. Not all growth happens upward, toward the sky. Sometimes you expand slowly outward, like a tree with its rings. Sometimes, it's the tasks that feel repetitive that will save you, in the end.
Pisces: After you've been hurt, it's so easy to imagine that you should have been harder, more ruthless, less like water and more like stone. This week, try to believe something different. The world doesn't need for you to become hard or your heart to grow cold. It doesn't need you to gather power around you until you're untouchable. There are ways to survive that are wilder than anything you've yet experienced.
Get Madame Clairevoyant delivered every week.