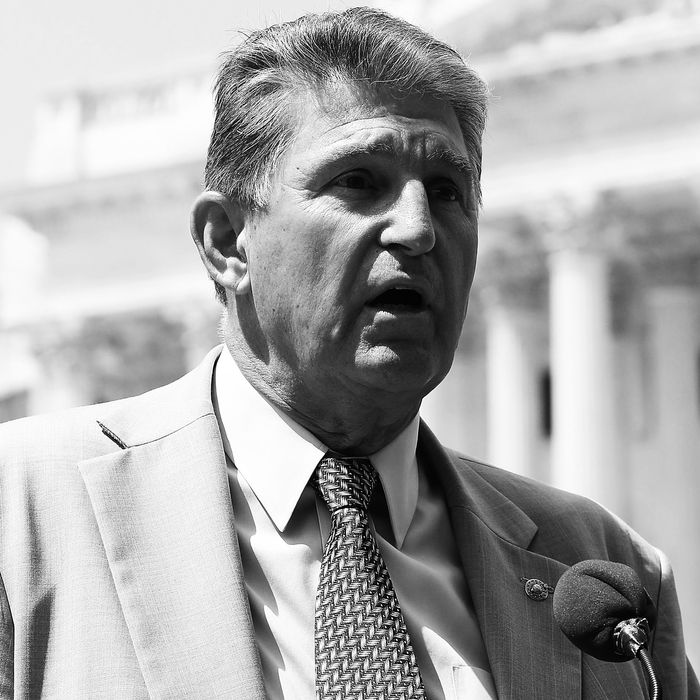 Senator Joe Manchin.
Photo: Mark Wilson/Getty Images
As a group of Democratic senators calling for Trump's resignation over sexual-misconduct allegations grows, another cabal is forming that thinks America should do the exact opposite: get over it. This past weekend, Alabama senator-elect Doug Jones urged the country to "move on" from the allegations, and on Tuesday West Virginia senator Joe Manchin echoed Jones's statement, HuffPost reports. Both senators are Democrats in red states.
Manchin, who reportedly does not "give a shit" if he gets reelected in 2018, said on CNN's New Day that he has personally "moved on" from calling for an investigation into the 20-plus women who have accused Trump of everything from sexual harassment to rape.
"You know I'm not going to make that determination because he went through an election process with all of this in the open," he said. "If people feel that needs to be done, I think we have other things to be done, too."
While their calls to inaction are almost identical, Jones justified his argument by implying that worrying about sexual-misconduct allegations — or in his words, "those issues" — is distracting Americans from real problems.
"Let's get on with the real issues that are facing people of this country right now, and I don't think that the president ought to resign at this point," he said. "We'll see how things go. But certainly those allegations are not new, and he was elected with those allegations front and center."
Manchin also said on CNN that he believes Al Franken, Minnesota's Democratic senator who stated his intention to step down amid sexual-misconduct allegations, should "definitely" not resign before getting a formal Ethics Committee investigation.
"The political rancoring here is just unbelievable to me," Manchin said. "How you can destroy a human being's life and his family and everything that they stand for without giving them another chance?"
As has become customary, the focus is on the alleged perpetrators — how sexual-misconduct allegations ruin men's lives, with no acknowledgement of the victims' well-being. Despite the calls to move on from the allegations on Capitol Hill, the women who have come forward with their stories remain hopeful, especially during this watershed moment.
"Let's try round two," Trump-accuser Samantha Holvey told Megyn Kelly last week. "The environment's different. Let's try again."