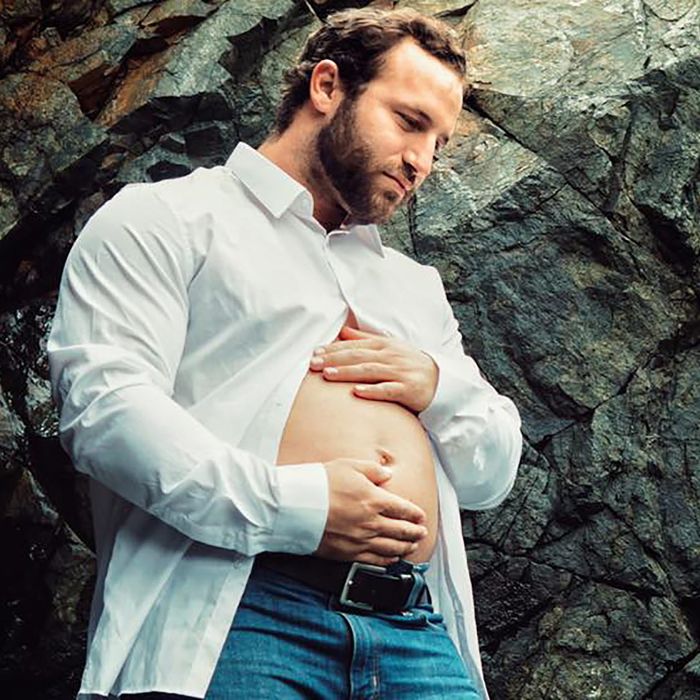 Nick Roberts.
Photo: Stephen Cwiok
Maternity shoots are a great way to announce your pregnancy to friends, gloat to frenemies, and maybe cover yourself in bees. But too often, they're all about the mother because they're the ones "creating life" and "hauling a cat-sized creature around in their womb." So, when a Boston man found out his girlfriend was pregnant, he and his friend decided to flip the script, and stage a maternity shoot for him because, sure, why not.
To prepare for the two-hour shoot with his friend, photographer Stephen Cwiok, Nick Roberts told the New York Post he ate "two McDoubles, a McChicken, a four-piece chicken nugget, two chocolate chip cookies and a medium Dr. Pepper."
In the now-viral Facebook post, Roberts said the experience gave him a greater understanding of pregnancy.
If I'm being completely honest, the setting, the occasion, the awful cramps from the double cheeseburgers, it all brought me so much closer to the pregnancy. Now, I'll never know what being in labor feels like, but i feel in my heart it can't be too far away from eating A LOT of fast food. I'm truly blessed to have had this eye-opening experience. #theresbeautyinallofus#livelaughlove #fitfam
"**Feel free to share this album so that the world may see the wonder of a father during pregnancy**" he added, while his girlfriend was growing an actual human being inside her body.
A beautiful gesture. But if eating a bunch of fast food was really like being pregnant, the president would probably have a lot more respect for women's reproductive rights.