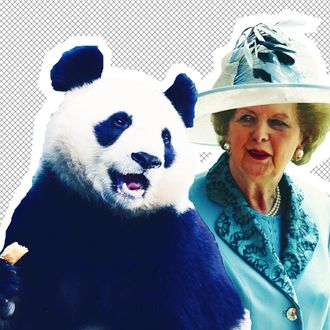 Some bad omens.
Photo: Getty Images
Here is an extremely specific superstition that will probably never come up for most of us, but is still good to know: According to late British prime minister Margaret Thatcher, it is bad luck for a politicians to fly on planes with pandas. Who knew!
Newly released documents from the U.K.'s National Archives show that in 1981, Thatcher refused to let a panda fly with her to Washington, D.C., because "pandas and politicians are not happy omens!"
Prior to her trip, the Smithsonian had asked to borrow Chia Chia, the London Zoo's giant panda, so he could mate with the panda Ling Ling at the National Zoo in Washington. Lord Zuckerman, president of the London Zoological Society, saw the request as an opportunity to strengthen diplomatic ties between the two countries, and suggested the prime minister take the panda in the back of the plane with her when she flew to the U.S. the next month.
Thatcher's response was brief and unambiguous.
"I am not taking a panda with me," she wrote, underlining the word "not" twice and the word "me" once.
Although extensive research (five minutes of Googling "is it bad luck for a politician and panda to fly together") did not reveal where this hyperspecific superstition came from, Lianna Brinded at Quartz suggested Thatcher may have been reluctant to fly with the adorable bear because of Nixon's attempt at "panda diplomacy" — he brought two pandas to the U.S. from China in 1972, which preceded his resignation in 1974.
Who knows if that's true, but we also found this adorable video of some panda cubs behaving badly. Enjoy.