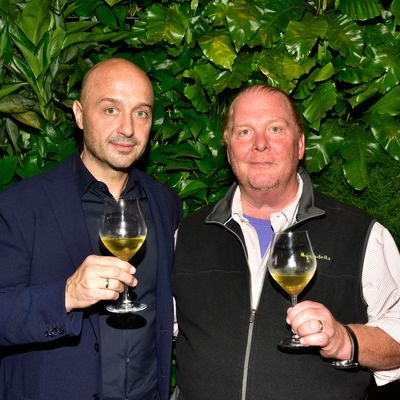 Joe Bastianich and Mario Batali.
Photo: Eugene Gologursky/Getty Images
Following sexual-harassment allegations against Mario Batali, more of the chef's employees have come forward, saying that he and his business partner Joe Bastianich's behavior encouraged a culture of sexual harassment and abusive behavior.
As part of a detailed, disturbing report, Eater spoke with employees from Del Posto, Babbo, Otto, and Lupa in New York, and B&B Ristorante and CarneVino in Las Vegas. The reported misconduct spans the last 15 years, and includes humiliation of both female and male employees, lewd comments, groping, and more. The company retained staffers despite their bad behavior, sometimes even giving them promotions, making staff feel discouraged to come forward. Some chefs and managers are perceived to be untouchable, and misbehaving men were so commonly promoted or moved to another restaurant that several people described this as the "B&B shuffle."
Staffers say that the problems go beyond Batali, who has stepped away from the restaurants, and that both Batali and Bastianich created a "boys' club" environment. A former Del Posto server, Brianna Pintens, says that she was groped and harassed by a male line cook, and that when she reported the behavior to a female manager, she was asked, "You realize you're turning this into an HR situation. Do you really want to do this?" Pintens quit on September 7, a little over a year after taking the job. Pintens also says that the women at Del Posto found "escape routes" to avoid the men who harassed them or otherwise acted inappropriately.
Five men and women who worked at Babbo over the last 12 years say that it is the most inappropriate workplace they have ever experienced, with some also telling Eater that it is the "most abusive." Executive chef Frank Langello's kitchen was allegedly rife with harassment, according to a former female employee, who says that he endlessly bullied men and women, whom he also harassed. Langello's behavior reportedly encouraged other employees, with another female employee saying that one chef harassed her for over a year. Earlier this year, former Babbo pastry chef Ivan Franco Nava filed a discrimination lawsuit against the restaurant that included allegations of harassment. Speaking with Eater, Nava says, "Batali knows exactly what's going on, and he doesn't care." A former Babbo employee told the website that you get marked as a "social pariah" if you go to HR.
B&B sent another statement to Eater saying that it clearly needs to improve its culture, will hire more people to look over operations, and that an outside firm will survey staff for compliance with sexual-harassment policies. Bastianich has attempted to distance himself from Batali's behavior, denying through a spokesperson that he ever saw the chef grope an employee, and saying that he was unaware of Batali's misconduct until it came out in the media. The two have been partners since 1998, and Bastianich wrote about his close relationship with Batali in his book, Restaurant Man. In that, he talks about women lewdly and about partying at the Spotted Pig — itself a hotbed of harassment — with Batali. Managers and current and former employees who spoke with Eater say that they could not fathom how Bastianich would be unaware of Batali's behavior.