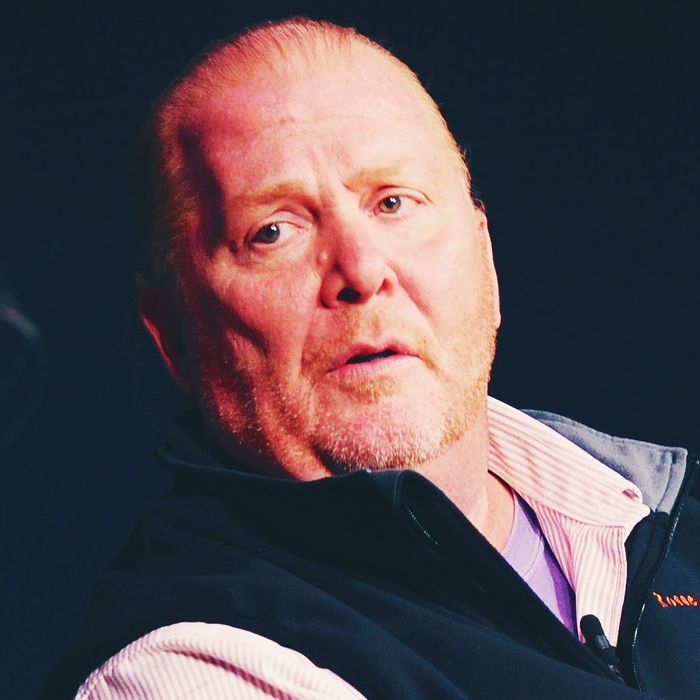 Photo: Craig Barritt/Getty Images for Fast Company
Celebrity chef Mario Batali is stepping away from the "day-to-day operations of his businesses for an unspecified period of time" after four women told Eater that Batali had inappropriately touched them over the span of two decades. Batali said in a statement to Eater that much of the accusations "match up" with how he has behaved in the past. Per Eater:
"I apologize to the people I have mistreated and hurt. Although the identities of most of the individuals mentioned in these stories have not been revealed to me, much of the behavior described does, in fact, match up with ways I have acted. That behavior was wrong and there are no excuses. I take full responsibility and am deeply sorry for any pain, humiliation or discomfort I have caused to my peers, employees, customers, friends and family."
One woman, a chef who was in her 20s at the time of the alleged misconduct, said that at dinner with Batali he began to touch her breasts after she spilled wine on her shirt. She told Eater, "[H]e just went to town, and I was so shocked … Jaw on the ground, I just stepped back from him in utter disgust and walked away."
All four women worked in the restaurant industry, and three worked for Batali. All of them describe Batali groping them or inappropriately touching them in some way. The first formal complaint against Batali was filed two months ago, according to a spokesperson for the Batali & Bastianich Hospitality Group. Batali was reprimanded and required to undergo training. Now, he will be stepping away from the operations of his restaurant empire, as well as his co-hosting gig at ABC's The Chew pending review of the allegations.
Chef Anthony Bourdain, who has been outspoken about believing accusations of sexual misconduct following the Harvey Weinstein revelations, tweeted this morning "It's Batali. And it's bad." Fellow chef Tom Colicchio responded "And no one should be surprised."