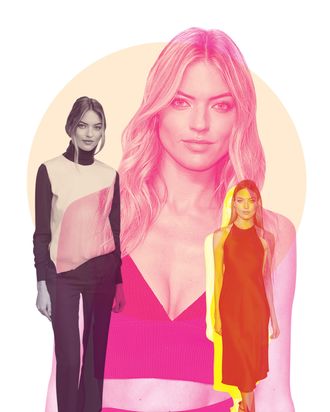 Martha Hunt has walked in more than 180 fashion shows and worked as a Victoria's Secret Angel since 2015. A spokesmodel for Free People, she's also a close friend of Taylor Swift. Michael Kors recently named Hunt one of the muses for his newest perfume, Sexy Ruby. The supermodel talked to the Cut about preparing to shoot in lingerie at all times, her love for white balsamic vinegar, and what grounds her when she's traveling.
How I start my morning: I make coffee, either a cold brew in the summer or I like a good French press in the winter. I walk my dog. She's half beagle and half Pekingese. Her name is Bear, because she's like a tomboy and needs a tough name.
My morning routine changes depending on where I am. Right now, I'm traveling to L.A., so I won't be walking my dog. But I do get tired of ordering room service when I'm traveling so much. When I'm home, I try to cook or have some Greek yogurt. It makes me feel grounded to do something there. Even grocery shopping makes me feel like I live in one place, and I have a normal routine and life.
What I eat for breakfast: I usually crave something sweet for breakfast. There's this place called ByChloe which has the best breakfast. It's called morning oats, and it's steel-cut oats with flax seed and quinoa. You can add almond butter, bananas, berries, and honey. It gives me energy for my day.
How I like to sweat: Lately I've been working out with a trainer. I really like how trainers challenge you and push you in ways that you wouldn't normally push yourself. What I've found to be most beneficial for me right now is always switching it up. My trainer will give me a new exercise every time that challenges my body and tricks my mind into having to connect to my body. I find the best results when my brain and my body connect, and both are challenged.
When I do the same routine, my body plateaus. Today we did a lot of isometric body work outs, and planks. We have been doing intervals too, when you have to go really fast on the bike for 30 seconds then go back to strength training. Those days are really intense.
What wellness means to me: Wellness to me means connecting my mind and body, living in the present, and taking care of myself. I do Transcendental Meditation. I try to do it twice a day but I can't always fit it in. I do think that has a lot of benefits, and it's really changed my life. I oftentimes don't feel like I'm in control of my schedule, so meditation makes me feel like I'm at least present in every situation. They recommend doing it twice a day — [they] give you a mantra and you repeat it over and over.
The mantra is a vehicle into your consciousness. You free up your mind to be creative and shut out the noise. I got into that when I first started dating my boyfriend and we did meditation classes together. There's an institute in New York. They have a three-day class and it's really fun.
My first scent memory: I'm a country girl and growing up in North Carolina I was always surrounded by pine trees and wood. The earthiness and the woody and mossy notes remind me of growing up in the South and running around barefoot. You really don't forget it.
On preparing for the Victoria's Secret Fashion Show: Year-round I'm pretty prepared for shooting in lingerie, so it doesn't change too much leading up to the show. But I do try to amp up the workouts. Today is a travel day, so I wouldn't usually be working out when I know I'll be on a plane all day. But I woke up at 8 a.m. and worked out with my trainer.
[The nerves have] gotten better year-to-year because I've adjusted to the preparation, but there are always pre-show jitters. I try to take the week off before to take care of myself and work out. The casting is the most nerve-wracking part and having gone through that a few times, I'm very glad I don't have to do that anymore. If you can get through that casting, then it takes the edge off the rest. It's a notoriously brutal process because there are a few people who sit across the room from you. You walk in with just lingerie and high heels and you have to light up the room with your personality.
It's very different from the high-fashion castings, where we're like a canvas and we walk. Now I'm conditioned to turn on the charm in the castings. I would get advice from the girls and the people from Victoria's Secret like, Don't be afraid to smile. Someone told me, "Walk in there like you already have it." If you're comfortable, you'll get it.
On nutrition: I try to eat a balanced diet, I don't restrict myself too much. It's about eating what you want but in moderation. I love avocado, you could put it on anything and I'd be happy. I don't love a lot of sweets, but I'm loyal to ice cream and Rice Krispie treats. You know you can count on it and it'll be really good.
I love a salad with kale, avocado, and vegetables. I love making my own dressing, I'm really into that. My go-to has white balsamic, olive oil, French Dijon mustard, salt, pepper, lemon, and garlic. I'm all about salad if the dressing is right. White balsamic makes all the difference.
My best wellness advice: Taking care of yourself should be a priority (even if it's just going to the spa). I used to see it as a luxury but now I see it more as just a necessity. When I've put myself first, I've done better in my work life. It can only help you, whether it's meditation, working out, or a massage. We're stressed and can be a bit aggressive. It's nice to go somewhere and know that someone is going to take care of you in the right way.
"It's really hydrating, especially for travelling. I use it on the plane or when I land."
"It's really beneficial for traveling because you can just throw it into your bag and add it to your water on the plane."
"I like good workout gear just to remind me to work out. I don't just do it for physical health but for my mental health as well. I take them with me when I'm traveling."
If you buy something through our links, New York may earn an affiliate commission.