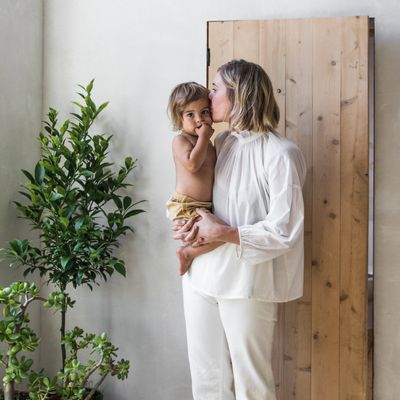 Julie O'Rourke pictured at home in Maine for "Apiece Apart Woman" series.
Photo: Greta Rybus/Courtesy of Apiece Apart
In fashion, there is a long tradition of men telling women what to wear and how to be. "Walk like you have three men walking behind you," said Oscar de la Renta. "When in doubt, wear red," said Bill Blass, who never did.
These designer men are there in the popular imagination. Whether they are portrayed as flamboyant and silly, with neck scarves and proclamations, or courtly and condescending, the notion has long been the same: Men know best, even in this most intimate arena, even though they have absolutely no idea what it feels like to wear a bra.
I've written about fashion for a long time, and I've come to expect designing men to walk me through their showrooms announcing, "This is what you're going to want," or "This is going to feel amazing." Sometimes, they (Alber Elbaz, Azzedine Alaïa) get it right. Sometimes, they design shoes that look like lobster claws, and women break their legs.
What these men seem to be saying is that a dream wardrobe is one in which we look "hot," with traditional sex appeal the primary concern. Clothes are sold as thinning or lengthening, and great designers are described as "magicians" for mastering a series of tricks and sleights of hand that will best help us resemble the skinny teenagers who work hard to sell us these clothes.
Things have definitely changed. Stella McCartney, Phoebe Philo, Maria Grazia Chiuri, Clare Waight Keller — there are an unprecedented number of women at the top of the fashion food chain, running the big international brands, defining both the conversation and the marketplace, sending "We Should All be Feminists" T-shirts down the runway, and redefining fashionable footwear (thank you forever, Phoebe Philo, for your groundbreaking endorsement of the Stan Smith).
But there's something else happening, too. A niche world of totally female-run fashion brands offer an alternative universe: Nili Lotan. Maryam Nassir Zadeh. Apiece Apart. Doen. Jenni Kayne — fashion labels run by women, for women. The clothes are sometimes sold in other retail locations (Jenni Kayne has brick-and-mortar stores in California and New York, Apiece Apart and Nili Lotan each have over 200 wholesale accounts), but their heart and soul is found online, where e-commerce is supplemented with a steady (often daily) stream of editorial content, and from this content it is possible to glimpse one version of what completely female-centric fashion looks like.
It looks like this: caftans, oversize sweaters, elastic-waist trousers, roomy linen dresses, blouses that button right up to the chin. Truly walkable heels!
Several of these brands use a blog or a "journal" component to introduce their customers to other customers, using the women who actually buy and wear this clothing as an advertising tool. Weirdly, this feels revolutionary — women in the position to purchase expensive clothing have long been expected to view their options on a series of young girls with whom they don't share much.
The women presented by these brands are not diverse, exactly: They are wealthy and often white. They tend to be somewhere around 35, working in creative fields like photography, floral arranging, and wellness. They worship a pantheon of artistic women idols: Joan Didion, Agnes Martin, Georgia O'Keeffe. They decorate their houses in neutral, earthy colors, throwing in accents of wood, brick, and millennial pink. They live mostly in Brooklyn or in Los Angeles (either Venice or East), or they used to live in one of those places but have since left for a simpler existence in Marfa or coastal Maine. Their young children play exclusively with wooden toys or handmade dolls, and they have found a way to pursue meaningful work, while also remaining primary caregivers. They wear little makeup, leave their hair as it lays, and tend to be aging naturally, with only a series of essential oils and herbs easing the path. And while they represent a broader range of body types than traditional models, they are thinned by organic diets, Pilates, Runyon Canyon hikes.
The clothes have little to do with popular or accepted ideas about what is sexy; this is a world that has resuscitated the mom jean and mock turtleneck, and made a lasting, credible case for the caftan. The women of this world seem to have other ideas about sex appeal, ones that come from strength, self-possession, and accomplishment. Or they don't, and they've decided not to care. All things considered, it's not a terrible spot for the fashion pendulum to find itself, though it's still an absurdly unattainable ideal for the vast majority of people in the world. But it's still fashion, and fashion will always deal in fantasy and aspiration. Perhaps these women, with their sensible footwear, comfortable pants, and pointers on what to pack in your child's organic lunch, represent progress over the accepted ideal: the 105-pound, six-foot teenager contorting in a rented studio while wearing a $3,000 dress. If there's something to be learned from this aesthetic, it's about what women actually want to buy, wear, be. And it has nothing to do with being followed by three men.