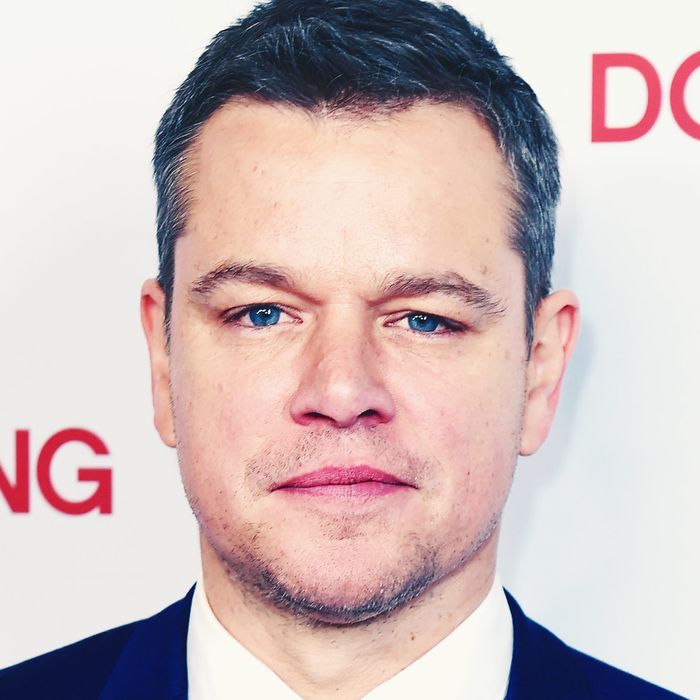 Matt Damon.
Photo: Michael Loccisano/Getty Images
Boston's Matt Damon is continuing his tour of sharing thoughts on sexual misconduct by … sharing even more thoughts. While many of us would opt to shut up after prompting several women to speak out against our comments, the man who previously admitted to knowing about Harvey Weinstein instead decided to just keep on talking.
In a new interview with Business Insider, Damon added to his now-infamous ABC News comments from last week (he suggested there's a "spectrum of behavior" to consider when it comes to sexual misconduct allegations). The father of four explained that while many men in Hollywood have been accused of harassment and assault, he thinks people aren't saying enough about the men who haven't been accused of such behavior.
Per Business Insider:
"We're in this watershed moment and it's great but I think one thing that's not being talked about is there are a whole s—load of guys — the preponderance of men I've worked with — who don't do this kind of thing and whose lives aren't going to be affected," Damon told Business Insider while promoting his new movie, Downsizing (opening in theaters Friday).
And if you think Damon should sign some sort of sexual-harassment document, well, sure, he'd be okay with that, no prob.
"If I have to sign a sexual harassment thing, I don't care, I'll sign it. I would have signed it before. I don't do that and most of the people I know don't do that."