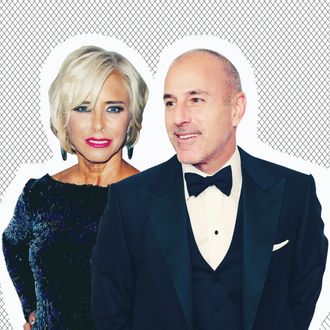 Nancy Alspaugh, Matt Lauer.
Photo: Getty Images
After Today show host Matt Lauer was fired by NBC due to sexual harassment allegations, his ex-wife Nancy Alspaugh has come forward to support him, saying that she's "shocked" by the situation.
Alspaugh, who was married to Lauer from 1991 through 1998 (Lauer married his current wife, Annette Roque, in 1998), defended him in a new Entertainment Tonight interview.
"He's been the best person that's ever held that job and I couldn't imagine that anything that he would have done — that would have been so out of character for him — that would have caused that reaction," she told the network. Alspaugh also said that Lauer is "incredibly nice, incredibly charming and incredibly willing to help anybody" and that she "never saw him as a power monger or somebody who would abuse his position in any way."
Alspaugh also shared that reporters had contacted her for information the week prior to the allegations breaking; she says she had warned Lauer of this and he said it was "fabricated." She claims Lauer was "blindsided" by all this.
Lauer is said to be accused of sexually assaulting a colleague while covering the Sochi Olympics back in 2014. A Variety report from earlier this week includes allegations that he gifted a colleague a sex toy with a lewd note and had a button under his desk that allowed him to auto-lock his door and be alone with women. Several stories of his bad behavior over the years, not just sexual in nature, have also reemerged in light of these accusations — and with them, claims that this was all an open secret at the network.