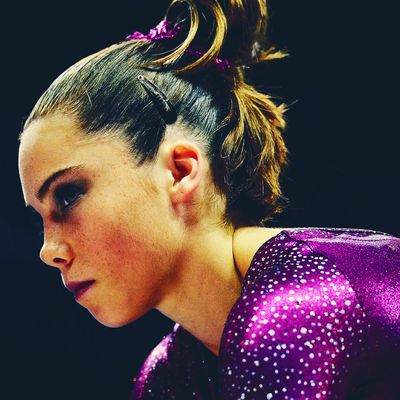 McKayla Maroney.
Photo: Ronald Martinez/Getty Images
In a new lawsuit filed today, gymnast McKayla Maroney, one of the young women who has accused former USA Gymnastics doctor Larry Nassar of sexual abuse, alleges that she was forced to signed a nondisclosure agreement as part of a $1.25 million settlement with USA Gymnastics in 2016.
Maroney's lawsuit names the U.S. Olympic Committee, USA Gymnastics, and Michigan State University, accusing those entities of negligence and sexual harassment.
In the suit, Maroney claims that she "was forced to agree to a non-disparagement clause and confidentiality provision," and if she talked about her "abuse or settlement," she would have to pay $100,000. But the new lawsuit claims that this NDA is illegal, and asks the court to nullify this clause.
"I want people to understand that this kid had no choice. She couldn't function. She couldn't work," Maroney's lawyer, John Manly, told ESPN. "They [USA Gymnastics] were willing to sacrifice the health and well-being of one of the most famous gymnasts in the world because they didn't want the world to know they were protecting a pedophile doctor."
More than 140 young women have accused Nassar of sexual abuse when he was the USA team doctor. He has been sentenced to 60 years in prison for possessing child pornography and he is still awaiting sentencing on sexual-abuse charges.
This news comes as victims and witnesses of sexual harassment are openly discussing how nondisclosure agreements can frequently prevent women from coming forward to report sexual violence.
Mark Jones, a spokesperson for the U.S. Olympic Committee, told The Wall Street Journal that they heard of allegations against a USA Gymnastics team doctor in 2015, but were not aware of a settlement. "At that time USA Gymnastics indicated that they were in the process of contacting the appropriate law enforcement agencies. We are heartbroken that this abuse occurred, proud of the brave victims that have come forward and grateful that our criminal justice system has ensured that Nassar will never be able to harm another young woman."
USA Gymnastics and Michigan State have not responded to requests for comment.