Left: Lena Diaz wears her own clothing; Center: Diaz wears Pringle of Scotland parka, Acne Studios sweater, and Fendi logo earrings; Right: Diaz wears her own clothing.
Photo: Lucas Michael. Photo Editor: Biel Parklee.
Lena Diaz is known as "the Meat Mayor" of Brooklyn for her passion for sustainable animal consumption. A butcher and fishmonger, she's inspired by the communities that form around grocers in Spain, where she lived for ten years.
At Greene Grape Provisions in Fort Greene, Diaz teaches her team how to cut meat, visits the farms that supply her product (all within a 250-mile radius), and interacts with customers. "It's bigger than just cutting meat," she says. Read on to learn about her love for Alia Shawkat, roller-dancing, and beef tartare.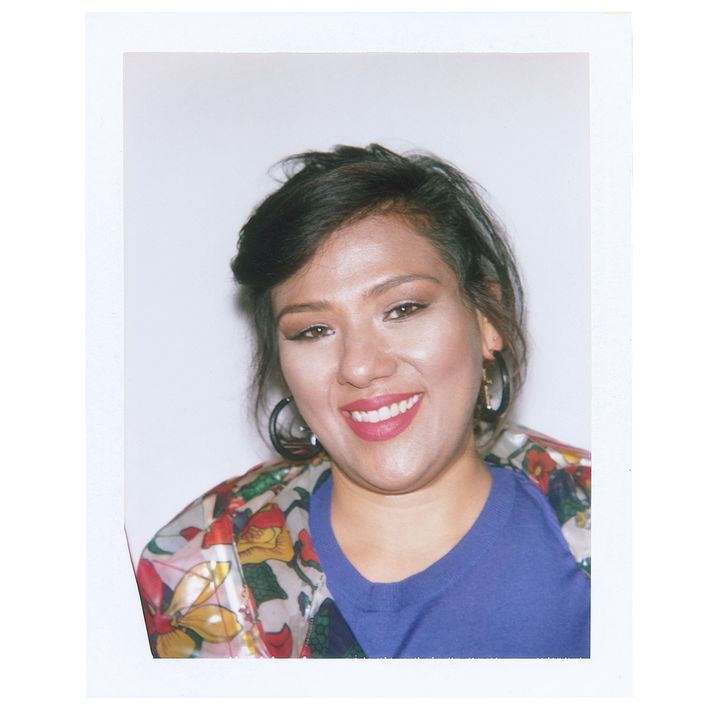 If you could be a magazine, what magazine would you be? Monocle has a travel magazine they did recently. It's really thick and about off-the-beaten-path travel. It's called The Escapist.
If you could speak to animals, which animals would you want to talk to? Migratory birds.
Sneakers or slippers? Sneakers.
What's something your social-media followers don't know about you? I'm really into roller-dancing. I'm a New York City club kid. That's probably something people don't know about me. I solo, I'm not great, but I'm not bad.
What was the last website you looked at? I Googled The Escapist.
If you could be outfitted by one designer for the rest of your life, who would it be? I don't know anything about design. Oh my god, H&M.
What time is your alarm set for in the morning? I'm not an alarm-setter. Unless it's been a long night or something.
What do you eat for breakfast? Coffee that I make in a moka pot.
If you had only three things you could eat for the rest of your life what would they be? Meat is so expected. Noodles, scallops, beef tartare.
Fuck, marry, kill? Nomi Ruiz, Alia Shawkat, and I just want to kill haters.
If you were a color, what color would you be? Orange or purple.
If you could tell Donald Trump one thing and make sure he would listen, what would it be? Speak up for human rights.
Lena Diaz wears Pringle of Scotland floral parka, $1346 at Pringle of Scotland; Fendi logo earrings; Acne Studios sweater.