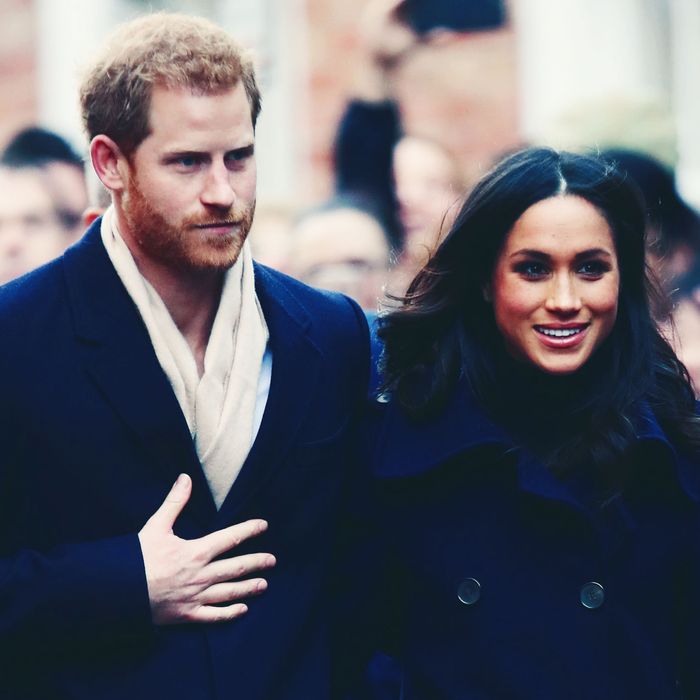 Meghan Markle and Prince Harry.
Photo: Chris Jackson/Getty Images
The Meghan Markle engagement parade continues this morning as Markle and Prince Harry attend their first royal engagement together. The newly engaged couple are currently in Nottingham to visit a charity fair for World Aids Day and a school that seeks to prevent youth crime. But first, they spent a half-hour greeting citizens lined up on the streets outside of the National Justice Museum. Among those who gathered to greet the prince and future duchess: rabid Suits fans.
Since Prince Harry first announced he was dating Markle in November of last year, I have heard more about Suits, the USA Network legal drama Markle starred on for six years, than I ever expected to in my life. Suits! It's a real show that people from all over the world tune in every week to watch. That much was proven again today when fans of the show rushed Markle to talk about it. One University of Nottingham student told the BBC that she woke up at 6 a.m. to get a good spot in line to talk to the star of her favorite show. And here's a video of another fan telling Markle she's watched every season.
Markle graciously responded, "You really follow up!"
Markle finished filming her last season of Suits last month. In her first joint interview with Prince Harry earlier this week, she told the BBC she was happy to leave acting behind and start a "new chapter" in her life.