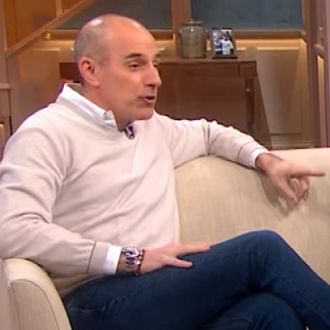 Matt Lauer, Savannah Guthrie, and Meredith Vieira.
After her time on the Today show, Meredith Vieira moved on to host her own eponymous daytime TV program in 2014. And one particular clip from 2016, in which she's interviewing her former colleague Matt Lauer, is making the rounds after he was fired from NBC for sexual harassment.
In it, Vieira ribs him about once going into his office and finding "a huge bag of sex toys" in his closet.
Lauer explained it away by saying that they had a guest on the show who was a sex therapist. "When she left … she gave each of us a shopping bag of stuff. True story, I didn't know what to do, I put it in my closet in my dressing room." He then says the next day Laura Bush visited the show and her Secret Service agents found the bag of toys in his closet. Sure!
Whatever the case, it's taken on a new light ever since Variety dropped a bombshell report on Lauer's behavior over the years — particularly because of the allegation that he "once gave a colleague a sex toy as a present" and "included an explicit note about how he wanted to use it on her."
As for Vieria's recollection of the sex therapist's visit, she said, "I didn't get a bag of stuff."
Update, December 4, 2017: Sex therapist and Today show guest Dr. Laura Berman told Inside Edition that, in 2007, Lauer spoke to her about his marital problems and asked about "sexual aids and devices." She claims she then "brought him a shopping bag filled with toys from my line that were designed for couples, spicing things up."
"I'm sort of crestfallen if any of those toys were used to harass any colleagues or any women," Dr. Berman added.