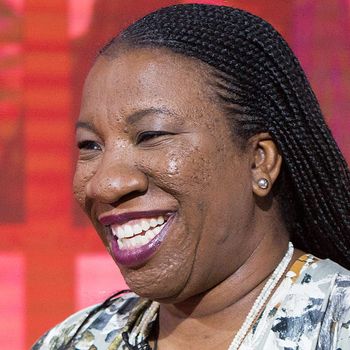 Tarana Burke.
Photo: NBC/Getty Images
In a very fitting honor, Tarana Burke, the social activist behind the #MeToo movement, will press the button to release the ball in Times Square this New Year's Eve.
A decade ago, Burke committed herself to helping women who had been sexually abused, and called her movement "Me Too." But her phrase fully caught fire this fall as stories of sexual harassment dominated the headlines and women around the world shared their own experiences with sexual abuse on social media with the hashtag #metoo.
"I am delighted to be participating in this momentous occasion," Burke said in a statement. "I think it's fitting to honor the Me Too movement as we close a historic year and set our intentions for 2018. With the new year comes new momentum to fuel this work and we won't stop anytime soon."
Organizers said they included Burke in the festivities to honor how she changed the world this year.
"New Year's is a time when we look at the most significant cultural and political moments of the last year, when we look for inspiration by honoring and giving a global platform to those who have made a difference," Tim Tompkins, president of the Times Square Alliance, told amNewYork. "Tarana Burke's courage and foresight have changed the world this year, and, we hope, forever."