Miguel, the petite singer who makes electro-R&B with the sexual potency of a hundred dozen oysters, stands contemplatively in front of an art exhibition titled "White Man on a Pedestal." He is on the vast main floor of Red Hook's Pioneer Works, a converted Civil War–era factory building turned incubator–performance space–art gallery–scene epicenter. His hands are in the front pouch of his pink hoodie, his eyes squinting in focus as he carefully reads line after line of the exhibition's explanatory copy, trying his best to fully absorb how white male heteronormativity has damaged our society.
Miguel, born Miguel Jontel Pimentel, is here to learn. Well, technically, the 32-year-old is here to give a private tour of the exhibit to 20 or so of his biggest fans, as quantified by Spotify, then perform a ten-song set in support of his new album, War & Leisure. But first, he is going to hear about the exhibit from the two black female artists responsible, Doreen Garner and Kenya (Robinson), so he can better engage with it when those fans arrive.
The singer, as it happens, is undergoing something of an awakening. While he was previously known for songs to make babies to (but perhaps babies who would live in Greenpoint, or at least babies whose parents would talk a lot about how they used to live in Greenpoint), his fourth album is a different kind of work for him, more political. Fans who follow him on social media might have noticed that in between Instagram stories of him flipping through Taschen's Little Book of Butts while giggling, there appeared, for instance, a video of him covering Pussy Riot's "Make America Great Again."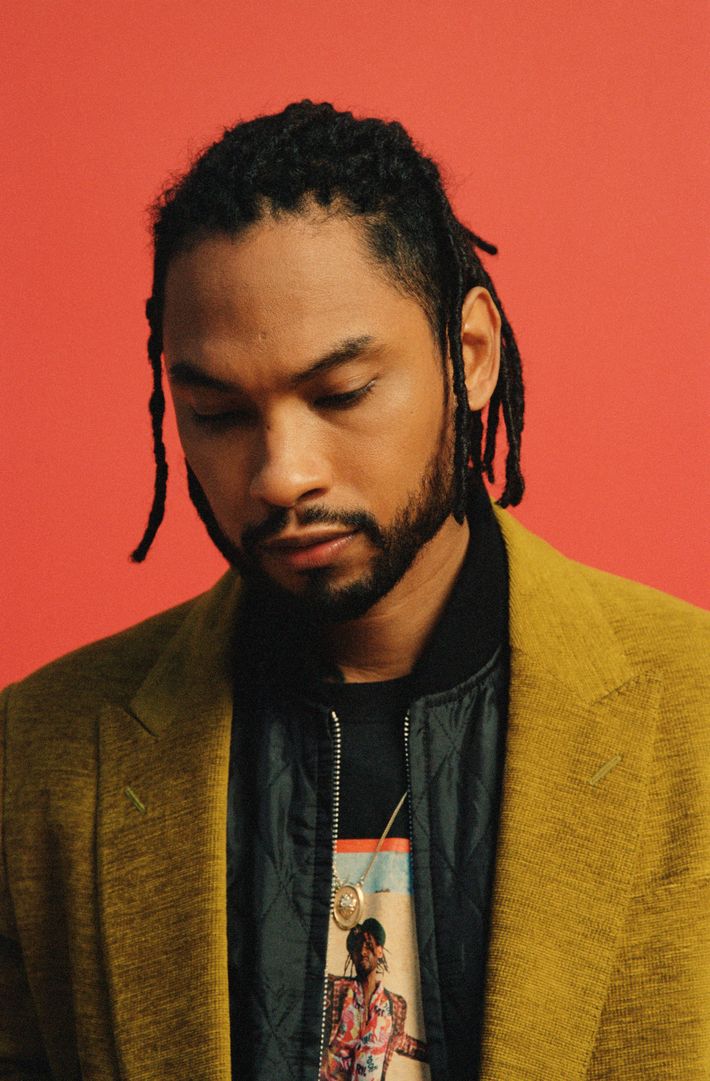 He shuffles behind Garner, walking on the backs of his black-and-white-checked slip-on Vans. She explains that much of her work is centered on the legacy of Dr. J. Marion Sims, the father of modern gynecology. Garner murmurs in a low voice that he would perform medical tests on black women without anesthesia or consent. "Even still, there's a statue of him in Central Park," she says. Miguel shakes his head in disbelief.
They stop in front of the centerpiece of Garner's collection: a rack, suspended from the ceiling, with replicas of mutilated body parts hanging from meat hooks. The singer takes in the too-realistic-looking fake brown flesh, marred by surgical sutures and grotesque scars, and shakes his head again. "Like cattle," he says in his gentle voice, eyes wide. He turns to the artists and thanks them both for educating him.
"Isn't it wild?" asks Dustin Yellin, the founder of Pioneer Works and the glittering prince of the Brooklyn contemporary interdisciplinary art scene. We've moved upstairs to a lounge space, where Miguel compliments Yellin's disintegrating vintage Bowie T-shirt. The two have been friends for a little over a year, after they were introduced by a mutual "creative muse."*
"Have you listened to the album?" Miguel asks me as he quickly sweeps away containers of cold fries from the coffee table before inviting me to sit next to him on the couch. He leans back with the sleepy-eyed slow half-smile of a college freshman who just got stoned. "Thank you for giving it the time to give it just an honest listen," he says. For reporting purposes and reporting purposes only, I take in the caramel skin of his half-black, half-Mexican heritage, his perfectly groomed beard and deep brown eyes framed by dense hedges of lashes. He really is looking every bit the five-foot-six-inch snack.
This is not objectification, exactly. Since the start of his career, Miguel has won acclaim for, well, being a five-foot-six-inch snack. In 2010, his debut album, All I Want Is You, introduced Miguel as an emotive, romantic crooner who loved sex. His second album, Kaleidoscope Dream, with songs like "Pussy Is Mine," cemented him as a commercially successful artist who really loved sex. On his third album, Wildheart, he established himself as just a consummate freak. It's in the lubricious, silken falsetto, the upper-register vocal runs that simulate an orgasm, the emotional lyrics that are punctuated by pelvic thrusts and slow, deliberate lip-licking. But right now, in 2017, the dry humps of R&B sometimes feel like Drakkar Noir — a cloying attempt at seduction. Horny R&B, like the rest of us, just isn't as horny in this political climate. And so what do you do if you're a professional sex symbol in an age of sexual reckoning?
Just maybe, you pivot. It wasn't a conscious decision: "It was just a desire to be mindful," Miguel says, his hands adorned with heavy silver and turquoise rings like a mystic's. "I don't think my music is going to change the world. It's more me trying to be aware of who I am in this moment and how my values are changing."
For him, the current times appear in "little flashes" on the album. For example, the video for the pop-leaning "Told You So" features clips of protests and melting glaciers interspersed with shots of Miguel dancing.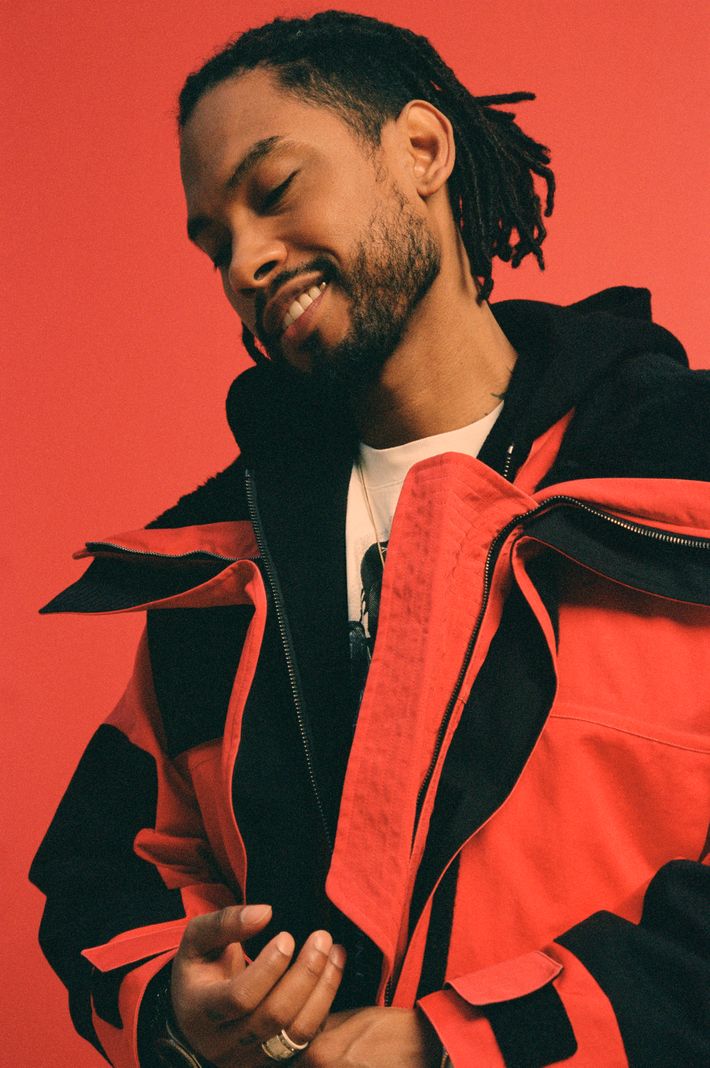 "There's an attitude … a little bit of …," he starts to say, before he pauses, breaking his soul-searching eye contact and staring off to the right as he looks for the appropriate phrase. I take this moment to figure out what he smells like — it's a musky sweetness, with the slightest hint of palo santo and weed, like Eau de Male Musicians Who Meditate.
He's finally found the words he's looking for. "There's a little bit of anti-something, you know what I mean? Well, it's more of a happiness in being anti certain things. You feel me?"
Miguel credits some of his changing desires and the shift in his music to reaching new levels in that meditation practice, something he started doing a few years ago, and his recent engagement to his longtime girlfriend, model Nazanin Mandi. He's reevaluating his relationships to everything, he says. Including his look: He's moved on from the tight white suits and slicked-back curls of a highly groomed lounge singer to the flowy floral button-down shirts and amber prayer beads of a highly groomed Joshua Tree vacationer, ready for a protest after his sound bath. (Miguel is from Los Angeles; he comes by it honestly.)
As for his former favorite lyrical topic, sex — specifically, having it — Miguel realizes some fans will be disappointed but says he just can't force himself to sing about something that doesn't feel top-of-mind. "I don't think there was ever a time in history where people weren't having sex, but talking about it that much right now may not feel as relevant."
Miguel's fans arrive. The Spotify representative gives a welcome speech and introduces not Miguel but the two artists. To their credit, the fans try to stay focused, but their eyes are darting around distractedly, with a look that says "Cool, but … Miguel?" Miguel is currently standing at the back of the crowd, allowing the artists to take center stage. It's not until about ten minutes in, right when Garner is explaining how one of the tools was used to crush baby heads, that someone realizes Miguel has been there all along.
A flustered 20-something woman overturns her beer while trying to position her forearm for an autograph. "I melted. I've melted," she whispers to her boyfriend.
Miguel takes the stage and runs through several of his new songs. Toward the end of the set, he performs "Come Through and Chill," a sultry, slow-burning invitation that references police brutality and Colin Kaepernick and also gets the crowd to chant "I wanna fuck all night" in unison. A couple starts making out.
I think of something he said during our conversation: "I look at music now as a way to find new connections. Music is more of a conductor, but it's not the electricity. The energy has to come from people." I look over at the couple, who have now progressed to passionate grinding against the wall. " 'Cause then what that does is it creates opportunities for people to come together. You feel me?"
*This article appears in the December 11, 2017, issue of New York Magazine. It has been corrected to show that Miguel and Dustin Yellin have been friends for one year, not three.