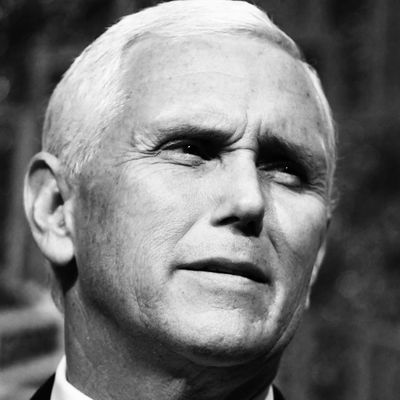 Mike Pence.
Photo: Ethan Miller/Getty Images
Following the October 2016 release of the Access Hollywood tape in which Donald Trump can be heard bragging about grabbing women "by the pussy," The New Yorker's Jane Mayer reported that then vice-presidential candidate Mike Pence had sent Trump a letter in which he said he needed time to make an "assessment" about whether or not to stay with the campaign. According to a new article in The Atlantic, however, as the tide of public opinion appeared to be turning against Trump, Pence was doing more than assessing. Via The Atlantic:
 […] according to several Republicans familiar with the situation, he wasn't just thinking about dropping out—he was contemplating a coup. Within hours of The Post's bombshell, Pence made it clear to the Republican National Committee that he was ready to take Trump's place as the party's nominee. Such a move just four weeks before Election Day would have been unprecedented—but the situation seemed dire enough to call for radical action.
Pence was not alone in his hope. As Republican donors called then-RNC chairman Reince Priebus urging him to get Trump to step down (some allegedly even offered to pay the candidate millions of dollars to exit the race) there were reportedly calls for Pence to be the nominee, and former secretary of State Condoleezza Rice to be his running mate. According to The Atlantic, when Trump met with his top advisers in Manhattan, he was told Pence and Rice were "ready to step in."
The alleged "coup" attempt obviously never came to be, and an aide to Pence denied that he ever sent Trump a letter or spoke to the RNC. In a tweet on Wednesday, the vice-president's press secretary said: "Regarding The Atlantic's tired, false claim about the VP during the campaign — we denied this in the article and deny it again today. Didn't happen [snoozing emoji]"
Read the full story here.