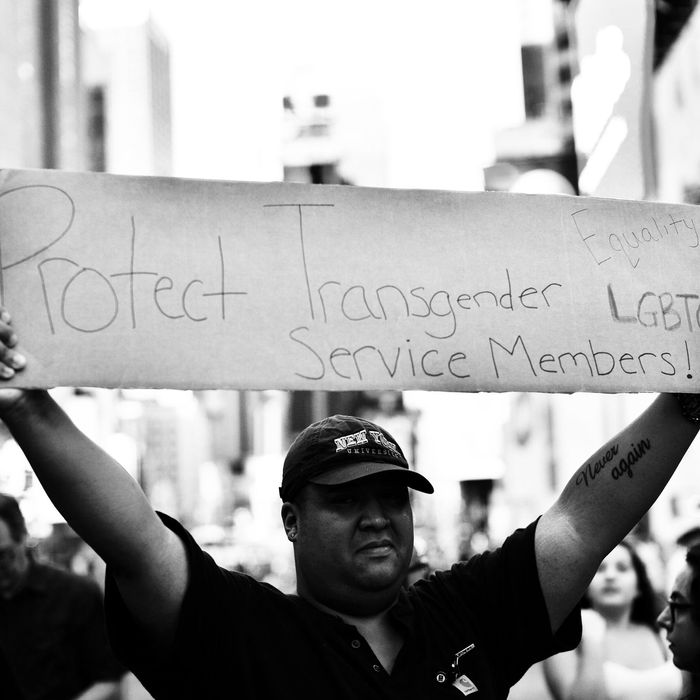 A protester in front of the U.S. Army career center in Times Square on July 26, the day Trump announced that transgender people may not serve "in any capacity" in the U.S. military.
Photo: JEWEL SAMAD/AFP/Getty Images
After Donald Trump attempted to bar transgender people from joining the U.S. military this July, various civil-rights groups and five transgender soldiers sued his administration, with four federal courts blocking the ban. Starting tomorrow, transgender people will be able to openly enroll, the Week reports.
Two days ago, the Department of Justice announced that it would not appeal two rulings in Washington and Virginia that blocked Trump's ban. Pentagon spokesperson Heather Babb confirmed to Reuters in a statement that on January 1, transgender recruits will be accepted.
"As mandated by court order, the Department of Defense is prepared to begin accessing transgender applicants for military service Jan. 1. All applicants must meet all accession standards," the statement reads.
LGBTQ civil-rights advocacy and legal groups are celebrating the DOJ's decision. One such group is Lambda Legal, which filed a lawsuit against the ban. In their statement, senior attorney Peter Renn said that while he is "relieved," his organization acknowledges "the war isn't over."
"We are relieved that we don't have to hit pause on the constitutional rights of transgender people who are willing and able to serve our country," Renn said. "The administration clearly saw the writing on the wall and withdrew its desperate effort, for now, to block transgender people from openly enlisting in the armed services and serving their country."