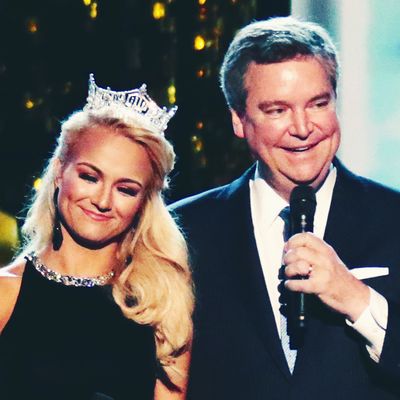 Miss America 2017 Savvy Shields and executive chairman Sam Haskell, III.
Photo: Donald Kravitz/Getty Images for Dick Clark Prod
One might expect there are brutal politics at play in the Miss America pageant, and according to a new story from HuffPost contributor Yashar Ali, it starts at the top.
HuffPost obtained emails between Miss America CEO Sam Haskell and board members Lynn Weidner, a Las Vegas socialite, and Tammy Haddad, a D.C. media consultant. Haskell has worked for the Miss America pageant since 2005, and he previously served as head of television at the William Morris Agency.
The emails reportedly show Haskell called Miss America 2013, Mallory Hagan, "trashy" and "huge" after she had gained weight; implied she had slept with a lot of men; and joked about the idea that Miss America 1998 Kate Shindle should pass away.
The emails also reportedly suggest that, in at least one case, Haskell, Haddad, and Weidner retaliated against a contestant who was behaving in a way they didn't like. According to the story, they thought about getting an investigator to "get something on her."
According to HuffPost, the emails read:
Haddad said, "Hi. I am so sorry. It is ridiculous but she is not going to stop. She has no control. I think u should hire an investigator to get something on her."




Haskell said, "Thoughts on Tammy's note below? Threatening her won't work and we already have 'enough info on her' to shut down Ft. Knox…..ugh. I really think the best way is to shut down her social media, and convince the Formers to ostracize her"




Weidner said, "I wish I had an easy answer to this dilemma. If we can prove a direct connection between MH and specific instances of cyber bullying, we could at least threaten her with a lawsuit right? I do believe that our anti coaching initiatives are already impacting her business. And that our policy of ignoring her is driving her crazy!"
Haskell and Haddad didn't comment directly on the HuffPost story but a Miss America Organization spokesperson issued a statement on their behalf.
The Miss America Organization Board of Directors was notified about the concern of inappropriate language in email communications several months ago. Consequently, the organization's Board of Directors took the allegations of inappropriate comments very seriously and formed an investigative committee … As a result of the investigation, the Board directed the organization terminate the relationship with most egregious author of inappropriate comments. In addition, the Board has started the process of instituting additional policies and procedures for communication. The Board has full confidence in the Miss America Organization leadership team."
Lynn Weidner issued the following statement to HuffPost:
This was a terrible, highly divisive time in the Miss America Organization, fueled by inflammatory character attacks. I along with the Board worked to stop the damage that was being inflicted on the organization and members of its community. Sam had led us to becoming a nationally recognized and positive force for the education and the empowerment of young women … The fact that he would be so ruthlessly attacked by a handful of disgruntled malcontents is disgraceful. I am very proud of the way he has kept above the fray and always conducted himself in a way that does honor to this program.
Read the full story here.