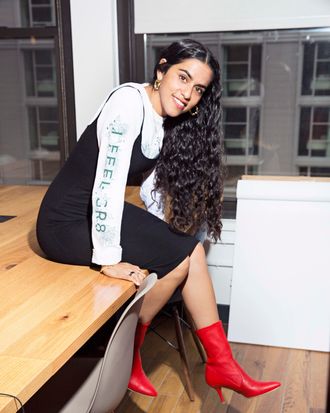 Mona Chalabi wears Stuart Weitzman boots.
Photo: Victoria Stevens. Produced by Biel Parklee.
In Her Shoes is a column about what real women wear when they need to get things done.
If you've ever clicked on a cleverly illustrated chart while reading The Guardian — say, an explainer on Halloween phobias or a breakdown of female body hair — you have Mona Chalabi to thank. As the paper's data editor, her job is to read the news, pluck out the most relevant info, and present it in a way that's fun to digest.
The job might sound unusual, but it fits Chalabi's background. Born in England, she studied at the University of Edinburgh before getting her master's degree in international security from Paris Institute of Political Studies. Chalabi's first job was working in the statistical department of a non-governmental agency, but five years ago she switched to journalism. After covering statistics and data for FiveThirtyEight, she eventually moved on to her current gig at The Guardian. She's also added hosting to her résumé, appearing on Viceland's finance talk show The Business of Life.
We caught up with Chalabi, 30, at her midtown co-working space to learn about her love of suits and why she refuses to dress her age.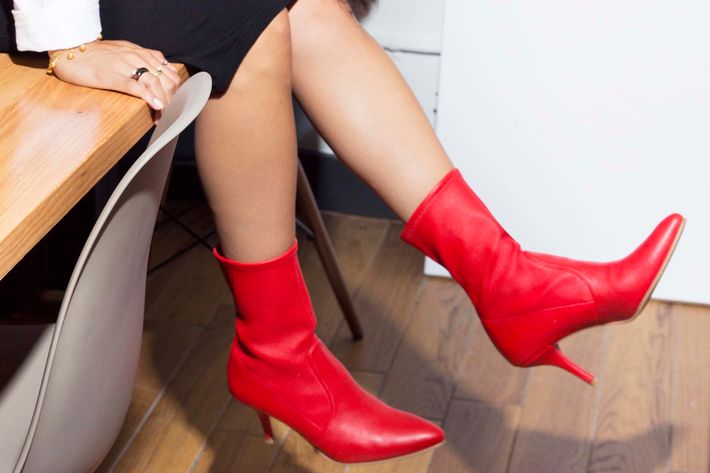 On her favorite big meeting outfit: I like two piece suits in simple prints and bold colors like this Ann Taylor suit I wear a lot. I'll wear them with a T-shirt or camisole and loafers or sneakers plus all my gold jewelry. I feel like myself and then I can just forget what I'm wearing.
On her go-to Monday outfit: I love a jumpsuit — it requires so little thought to get dressed when your pants are stitched to your shirt. My favorite is a black-and-white one that I bought in the kids section of a supermarket (it's called Asda) in the U.K. It gives me pretty bad camel toe but I refuse to part with it.
On her daily routine: After getting to work (I hate the C train!) I spend about 30 minutes reading the news. Then I'll devote two hours each to research and drawing and animating story ideas. Another hour is devoted to writing while I spend about half my day in meetings or interviews. I'll also try to get the hell away from my desk to eat lunch at some point.
On her daily shoe rotation: I often wear sneakers and my favorites are by Adidas, especially ZX 700 and 750. I'm working on a new podcast that involves running across the city during the middle of the day for interviews and I don't want to risk heels making me late. I also keep a pair of Dr. Marten boots in my desk drawer in case it's raining. They're really simple black ones so they go with whatever I'm wearing.
On her flashy boots: They look like serious shoes with a sense of humor — if shoes have a sense of humor.
On what she wears to go out after work: I normally just take off some layers — a sweater, some pantyhose, whatever can come off. I don't bother to pack a change of clothes because I'm either with friends or on dates (which are all terrible in this city anyway.)
On being true to herself: Sometimes I think about being too old for certain clothes. I've barely changed my style since I was 18 and still wear the same butt-skimming dresses and stomach-squeezing jeans I bought years ago despite the fact that I now have a FUPA and my ankles aren't so bony.
I think about how older women's bodies are treated as decaying artifacts that are uncomfortable for men to look at — especially when you're onscreen. And so we naturally cover up more and more as each year passes. But then I think, I've always dressed this way despite male attraction so maybe I'll always dress this way despite male disgust. I hope so.
If you buy something through our links, New York may earn an affiliate commission.
Production Credits:
Photos by Victoria Stevens
Sittings Editor: Diana Tsui
Produced by Biel Parklee