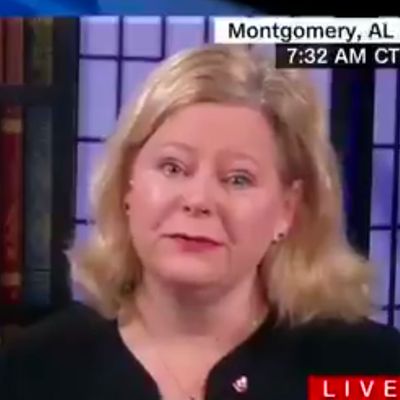 Poppy Harlow and Janet Porter.
There are many ways to make conversation with a woman about her pregnancy: asking when she's due, for instance, or simply saying "congratulations." What shouldn't you do? Maybe don't immediately bring up the abortion debate and the idea of "killing" unborn babies. But a Roy Moore spokesperson did exactly that during a Tuesday morning interview with CNN's Poppy Harlow.
"By the way, congratulations on your unborn child," Janet Porter said at the start of the segment. "That's the reason why I came down as a volunteer to speak for Judge Roy Moore 'cause he'll stand for the rights of babies like yours in the womb, where his opponent will support killing them up to the moment of birth."
Awkward, sure, but also a clear effort to once again drive home that Moore is the pro-life candidate those single-issue voters should be supporting. As for Porter's claim about Moore's opponent, Doug Jones, it's inaccurate. In a recent AL.com interview, Jones said he supports the current Alabama law: abortions are banned after 22 weeks unless the woman's life and health are in danger.
Of course, the primary purpose of the interview was to get a spokesperson to discuss the multiple claims that Moore either pursued or sexually assaulted underage girls. In that regard, Porter said "we need to make it clear there's a group of non-accusers." So just great stuff, all around.
Sources