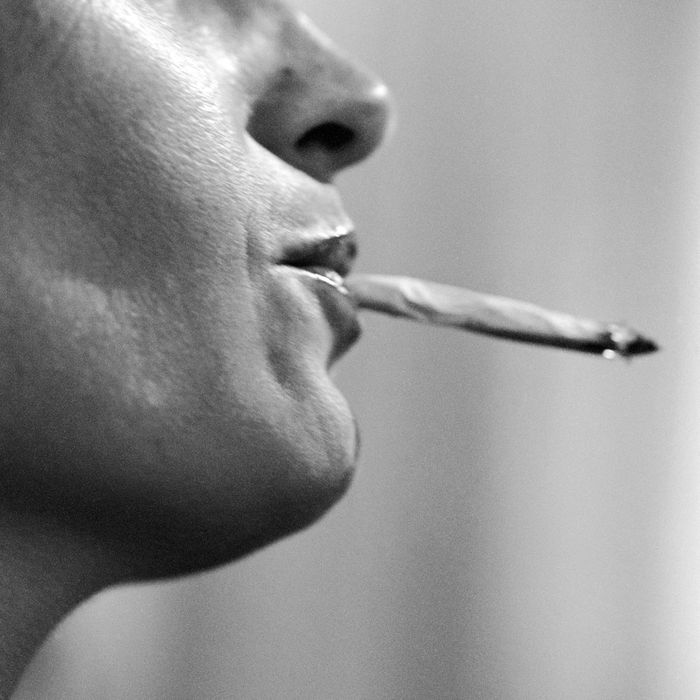 Cool mom.
Photo: Thinkstock Images/Getty Images
Here is some extremely chill news from the world of motherhood: A new study published in the Journal of the American Medical Association this week found that pot use among women during the first two months of their pregnancy has increased significantly since 2009.
Researchers found that marijuana use during the early stages of pregnancy rose about 7.5 percent a year between 2009 and 2016, and that in 2016, 1 in 14 mothers had consumed some form of pot after they had conceived.
Their findings are based on the medical records of 280,000 women in Northern California. The mothers-to-be were asked about their marijuana use during a prenatal exam, and were then given a cannabis toxicology test during their first trimester, which was important, because 55 percent of the women who tested positive for cannabis denied having used pot since they became pregnant. In their defense, the study's authors say, it's not clear whether all of the women knew they were pregnant when they consumed the pot (then they presumably winked theatrically and made the "OK" sign with their fingers.)
While the biggest jump was, predictably, among young mothers (in 2016, marijuana use rose to 19 percent among mothers between the ages of 18 and 24), there was a rise in women of all ages, including those 35 and up. By 2016, 3.3 percent of them had consumed pot after becoming pregnant.
It's still not clear what effects maternal marijuana use can have on a fetus's development, but researchers should probably figure it out soon — recreational pot use becomes legal in California on January 1, 2018.