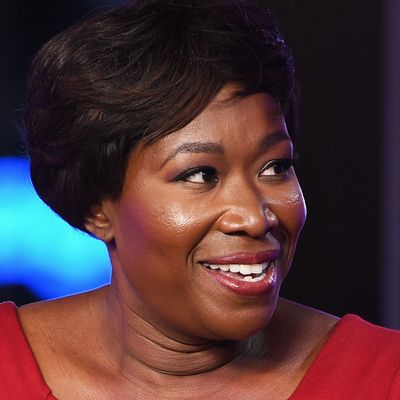 Joy Reid.
Photo: Dave Kotinsky/Getty Images for Spike
Being a human in 2017 means that every single fact about you likely exists somewhere on the internet, and if you've ever done something tasteless or reprehensible that you've tried to hide, evidence of that offense could surface at any time. Joy Reid is currently reckoning with this truth, as a Twitter user dug up internet archives of the MSNBC host's blog, unearthing crass homophobic jokes.
Mediaite reports that the posts come from her now-defunct blog, the Reid Report, which she ran while simultaneously writing for the Miami Herald. According to Twitter user @Jamie_Maz, who accessed the blog using internet archiving service Wayback Machine, Reid wrote 12 bigoted blogs between 2007 and 2009, in which she attacked former Florida governor Charlie Crist and referred to him as "Miss Charlie" a total of 17 times.
While rumors about Crist's sexual orientation have circulated, he has always denied them. However, that didn't stop Reid from labeling blogs about him with the tag "gay politicians" and spreading the conspiracy theory. In one deplorable post, she asserted that Crist likely spent his honeymoon wishing he were with a male waiter instead of his wife.
"I can just see poor Charlie on the honeymoon, ogling the male waiters and thinking to himself, 'god, do I actually have to see her naked … ?'" she wrote. Reid also published a blog in which she suggested that Crist only married a woman because it would've somehow helped him become John McCain's running mate in the 2008 presidential election.
Reid, who frequently tries to smear Bernie Sanders supporters and progressives as the real bigots, apologized in a statement provided to the Wrap, which is excerpted here:
Let me be clear: at no time have I intentionally sought to demean or harm the LGBT community, which includes people whom I deeply love. My goal, in my ham-handed way, was to call out potential hypocrisy.




Nonetheless, as someone who is not a member of the LGBT community, I regret the way I addressed the complex issue of the closet and speculation on a person's sexual orientation with a mocking tone and sarcasm. It was insensitive, tone deaf and dumb. There is no excusing it — not based on the taste-skewing mores of talk radio or the then-blogosphere, and not based on my intentions.




In addition to friends and coworkers and viewers, I deeply apologize to Congressman Crist, who was the target of my thoughtlessness. My critique of anti-LGBT positions he once held but has since abandoned was legitimate in my view. My means of critiquing were not.




In the years since I went from blogger to opinion journalist, I have also learned, through brilliant friends and allies in the LGBT activist community, how to better frame my critiques of those who challenge people's right to love who they want, marry them, and walk in the world as fully free people.




Re-reading those old blog posts, I am disappointed in myself. I apologize to those who also are disappointed in me. Life can be humbling. It often is. But I hope that you know where my heart is, and that I will always strive to use my words for good. I know better and I will do better.
You can read the full statement here.
This post was updated after Reid issued her apology.