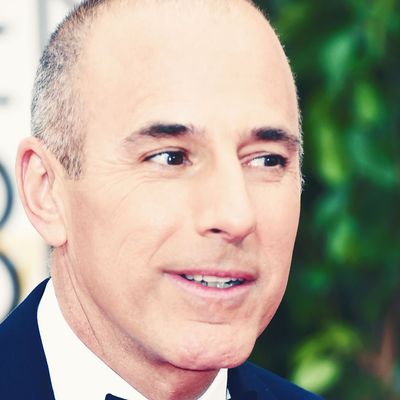 Matt Lauer.
Photo: Frazer Harrison/Getty Images
Matt Lauer's office, one of the places where the former Today show host allegedly assaulted women through the use of a creepy auto-lock button on the door, will soon cease to exist. According to Page Six, NBC News reportedly is demolishing the room, removing his name plate from 30 Rock, and taking down all pictures of him.
Since NBC fired Lauer and Variety published its disturbing investigation into his sexual misconduct last week, Lauer's wife has allegedly left the country and NBC has denied his request for a payout. Now, like an aggrieved ex, NBC reportedly wants to erase every trace of Lauer. One network insider detailed the scene:
"Matt's office is being completely demolished. Everything is going, including that button under his desk, his name plate, the photos of him in the hallways, the pictures of him online and on NBC News social media. They are so sickened by his behavior it is almost like they want to pretend he never existed."
Will his sheep-and-cattle farm in New Zealand be the next to go?