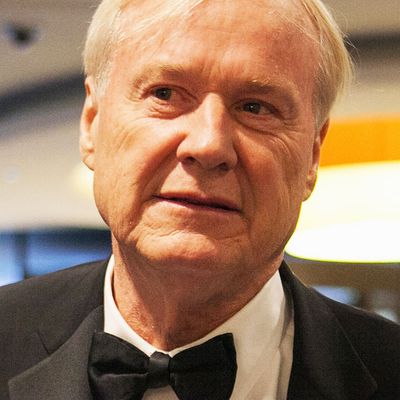 Chris Matthews has hosted
Hardball
since 1997.
Photo: Teresa Kroeger/Getty Images
NBC reportedly paid severance to a former assistant producer who accused MSNBC's Hardball host Chris Matthews of sexual harassment in 1999, the Hill reports.
The settlement was originally reported by the Daily Caller, who spoke to two sources familiar with the situation. The sources said that the assistant producer worked on Hardball, and that NBC settled with her for $40,000 after she accused Matthews of making inappropriate sexual comments about her in front of others.
Matthews has been the host of Hardball since 1997, which originally aired on CNBC from 1997 to 1999. He also hosted The Chris Matthews Show from 2002 to 2013.
An MSNBC spokesperson, who emailed with NBC News, confirmed that the assistant producer complained to CNBC about sexual harassment, and that Matthews received a slap on the wrist after the matter was investigated.
"In 1999 this matter was thoroughly reviewed and dealt with. At that time Matthews received a formal reprimand," she said in an email.
However, the spokesperson disputed the reported severance pay of $40,000. While she did acknowledge that the producer received separation-related compensation, she said the payment was significantly less than $40,000.
This report comes at an exceptionally turbulent time for NBC, which recently fired Today show host Matt Lauer and cut ties with journalist Mark Halperin for sexual-misconduct allegations.