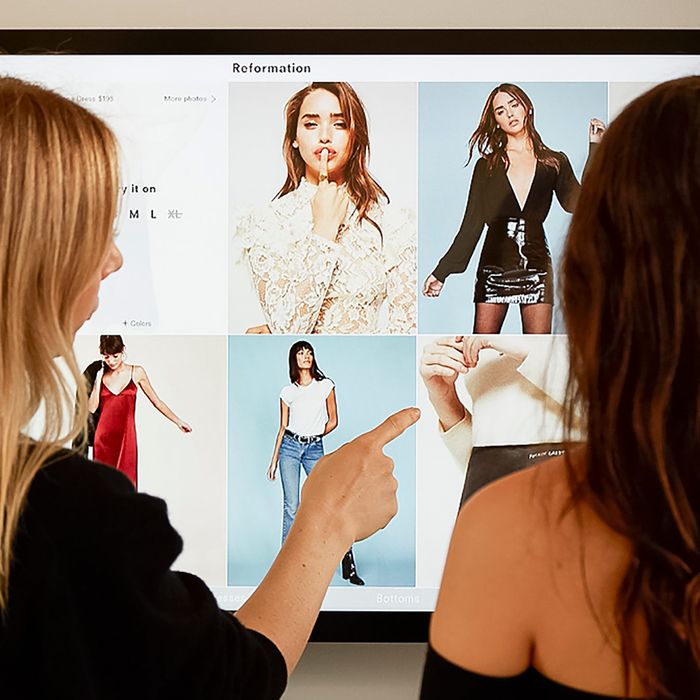 The Reformation in San Francisco.
Photo: Matthew Millman/Courtesy of The Reformation
The thing about purchasing a body-con dress from the Reformation — an eco-friendly, cult California fashion brand founded by Yael Aflalo in 2008 — is that it's probably a good idea for you to close your laptop, walk into a store, and actually try it on your living, breathing, physical body.
Horrifying, I know! It's much more fun to flaunt these dresses in your imagination, where first dates in season-less environments actually exist and you're the kind of person who "twirls." Where you don't have to do things like, say, bend over in a V-neck that's as deep as your belly-button, or digest any solid food. A look in the mirror at any Reformation can often feel like a necessary evil, especially as the holiday office-party season approaches. But the brand's new high-tech sore on Bond street makes trying on body-con dress (and more) a seamless, even enjoyable experience, with touch-screens and and smart fitting rooms. It's like visiting the Apple store and buying an iPhone case … for your body.
Reformation on Bond opened a month ago with little fanfare — a rarity for a brand that often writes its email newsletter subject in all-caps. But its new tech features, which debuted earlier this year in San Francisco, were still in "beta testing" phase, and couldn't necessarily handle the usual drove of customers. Upon entering late one recent Wednesday afternoon, ("Welcome to Ref!"), the store was startlingly quiet. White walls and stainless steel hanging racks also gave the space a bright, modern feel.
Compared to the brand's two other locations, which often boast long lines for both the fitting rooms and selfie booths, being in this space felt cleansing, like reaching inbox zero. It also resembled a showroom — the retail experience du jour popularized by brands like Glossier and Everlane.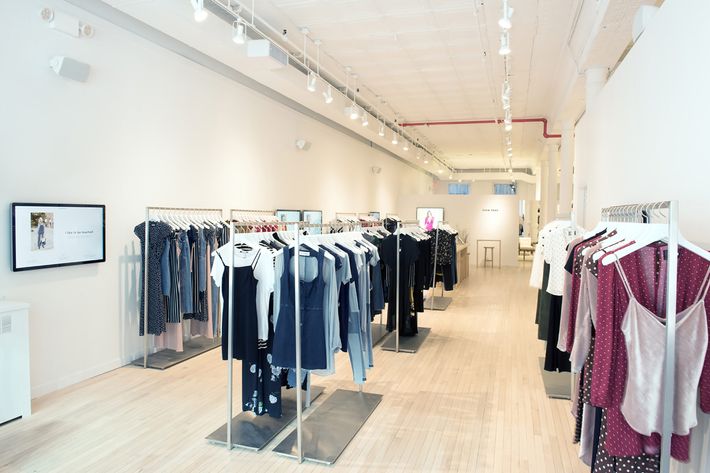 "I like to be touched," said a television screen mounted on one of said white walls. This is a classic Reformation-ism, meaning that it sounds like something your drunk self would caption an Instagram at 3:00 in the morning. (No shame.) A blonde-haired Ref Babe (store clerk) demonstrated that I could add clothes to my dressing room with a swipe of a finger, blending the online shopping experience with brick-and-mortar. She said this in a much more chill, less gimmick-y way, making it sound like, well, duh.
I didn't want to touch the TV, though. I wanted to touch the clothes. I also didn't want the two other customers in the store to see me toiling over what to buy. So I did things the old-fashioned way: Stroking and stretching everything on the racks. It was only after I did this that I felt ready to venture to the middle of the store, where an iPad station allows you to add items to your dressing room more privately. I requested two styles of the same slip dress in different sizes; one slinky gown that I would never wear, but wanted to feel on my body nonetheless; plus some jeans because it was just so easy.
Approximately four minutes later (according to a countdown on the iPad), a Ref Babe seated at the "Love Desk" told me that I was up to bat. Another Ref Babe escorted me to the back, and reader, I was not emotionally prepared for what awaited me behind door number three. The Ref babe swung it open to reveal a huge, glowing wooden bureau with "my" clothes hanging in it. I gasped with glee; she was like my Mr. Big, and she knew it, too. She told me I could plug in my iPhone to listen to whatever music I wanted. I could also adjust the light switch to "Golden," "Cool," or "Sexy Time." Bring on the body-con.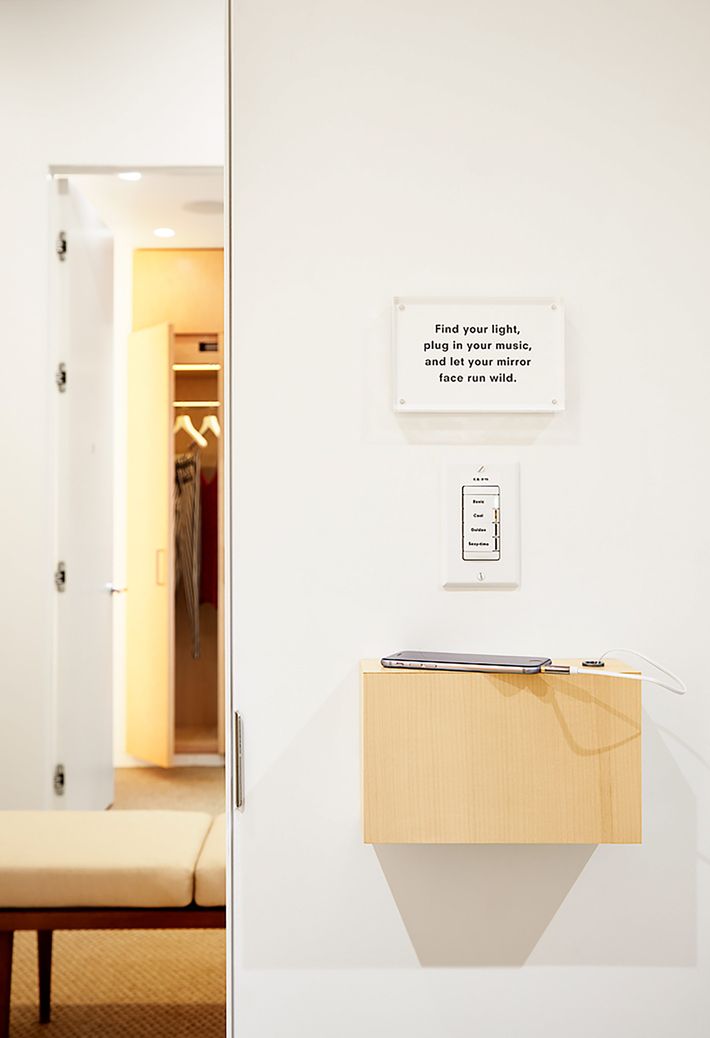 While I still had enough dignity left to not play Reputation at Reformation, I did find myself trying on more items than I ever would have otherwise. Because here's the best part: Another touch screen in the dressing room lets you request even more items and sizes, but instead of awkwardly trying to hail a salesperson in your underwear, you just close the wardrobe, and someone in body-con Narnia adds it through the back. A very-chill voice-over recording then signals you when it's ready to be opened, adding, "I dare you."
Although I didn't end up buying anything that day — the jeans didn't fit quite right, and I wasn't ready to make a holiday party dress decision before getting any actual invites — it was one of the more pleasant fitting room experiences I've had. (How do I install "Golden" lights in my own bathroom?) I would gladly go back to this store. In fact, I look forward to it, and might even order online less.
As a whole, the new tech features were done right: They got me in the door; made me want to stay; and gave me an experience I couldn't get online — all while still allowing me to browse everything with the same ease. They also coaxed me out of my comfort zone in a way that wasn't forced, which is exactly what you want to feel when you're wearing something that leaves little to the imagination.
On my way out, I spotted a pair of sunglasses I wanted to try on as well. There wasn't a mirror anywhere in the vicinity, though, so I looked over my shoulder and opened my iPhone camera to take a selfie. I wasn't into my reflection, but the future looked pretty good.