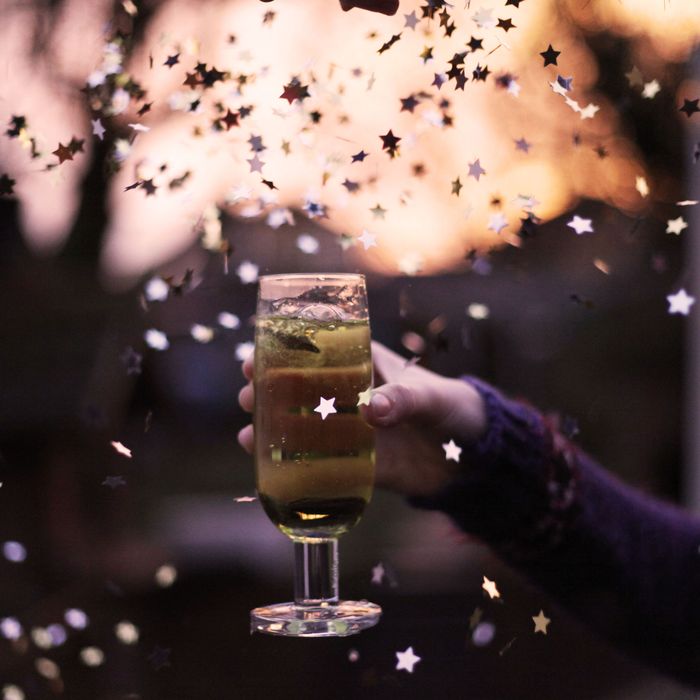 Photo: brydieleishman/Getty Images/RooM RF
Much like Halloween, going out on New Year's Eve can be highly overrated. From the overpriced open-bar party (where you can't even get a drink!) to the inevitable Uber surcharge at 2 a.m., it's an expensive, crowded proposition. So it's worth remembering that staying home can be just as fun — especially if you plan ahead. Read on for our checklist of everything you need for the best New Year's Eve ever.
An Instagram-Worthy Backdrop
Hey, just because you're at home doesn't mean you can't take cute photos.
Because a glass or three of bubbly is a must, but cleaning up broken glass is not.
If You're Craving Something Stronger
Use this to mix up whatever your heart desires.
Our friends at the Strategist turned us on to these fancy paper plates.
Disposable but impressive-looking.
Yes, they're cheesy — but they'll look so good against your tinsel backdrop.
The better for playing party music.
Fun Party Games (Part One)
Jenga is a great crowdpleaser, especially when you've had a few drinks.
Fun Party Games (Part Two)
Based on spaghetti Westerns, this dice game is all about deception and forging deals. Within 20 minutes, expect everyone to be shouting at each other and having a blast.
This silky pair is perfect for the hostess who cares about her at-home look.
These come in multiple colors so they'll match whatever you decide to wear.
Good to have in case anyone gets cold.
Party of two? Maybe this is all you need to wear.
Made with cashmere, it doesn't get any better than this.
Something to Ring in Midnight
Sparklers are a nice touch when the clock strikes 12.
If you buy something through our links, New York may earn an affiliate commission.