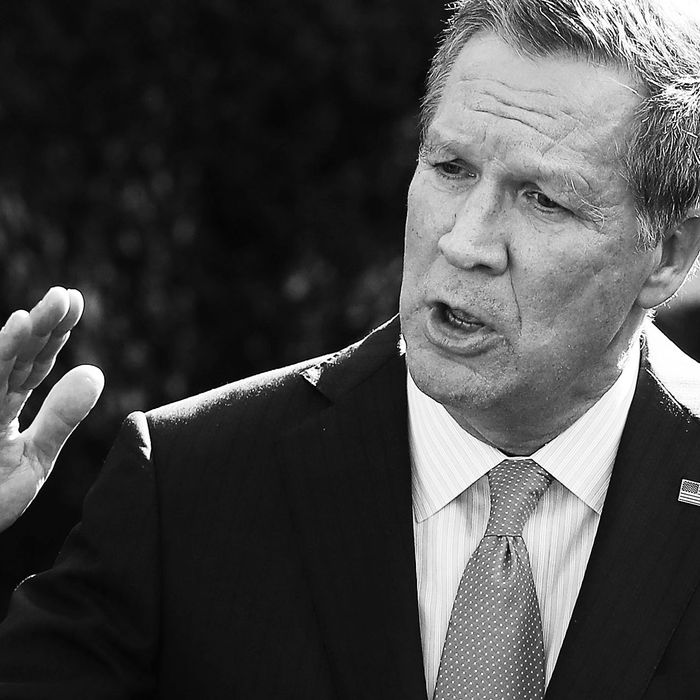 Governor John Kasich.
Photo: Mark Wilson/Getty Images
Ohio governor John Kasich, a longtime anti-abortion crusader, signed a bill that bans abortion following a diagnosis of Down syndrome, Time reports. Under the law, which is set to take effect in 90 days, doctors who perform the procedure could face 18 months in prison, a $5,000 fine, and have their medical license revoked.
This bill isn't the first of its kind. This past September, an Indiana judge struck down similar legislation that then-Governor Mike Pence had signed in March 2016, deeming the law unconstitutional. North Dakota also has a ban on abortions for Down syndrome, though Time notes it isn't enforced because the state's sole abortion-providing clinic doesn't perform the procedure after 16 weeks gestation. Down syndrome is typically diagnosed between the 15th and 20th week.
Those in favor of these laws say they protect people with Down syndrome from discrimination, while those opposed say they advance anti-abortion agendas disguised as concern for people with Down syndrome. Following Kasich's signature, NARAL Pro-Choice Ohio condemned the governor's move in a statement.
"When a woman receives a diagnosis of Down syndrome during her pregnancy, the last thing she needs is Governor Kasich barging in to tell her what's best for her family," executive director Kellie Copeland said in the statement. "This law does nothing to support families taking care of loved ones with Down syndrome, instead it exploits them as part of a larger anti-choice strategy to systematically make all abortion care illegal."
A few months ago, the Cut spoke to a handful of women about abortions for Down syndrome and their thoughts about Ohio's then-proposed legislation.
"This [Ohio] bill makes me incandescent with rage," Lillian, a woman who terminated her pregnancy after getting a prenatal Down syndrome diagnosis, told the Cut. "To have someone else decide how you can build your family or what your choices will be — it's so anger-inducing, there's almost not a way to categorize it."
Stacey Calcano, another woman who spoke to the Cut — but who gave birth to her son, who has Down syndrome — echoed Lillian's sentiments.
"I feel like these bills are representative of politicians using children like my son as political currency, without any thought or concern for quality of life, once they're actually born," she said. "They're very much pro-birth bills; they have nothing to do with actual life."