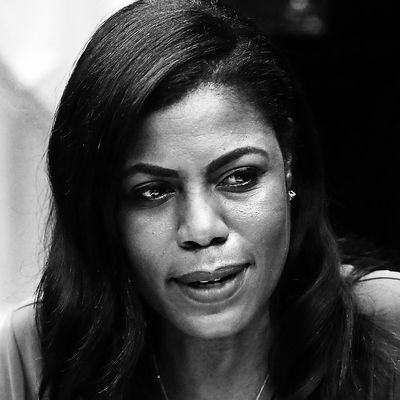 Omarosa Manigault Newman.
Photo: Mark Wilson/Getty Images
If there's one thing senior staff in the Trump administration can be counted on for, it's making a dramatic exit. The latest staffer to leave is Omarosa Manigault Newman, who was either fired or resigned on Wednesday, depending on who you believe, and who may or may not have been escorted out of the building by Secret Service agents.
On Wednesday, White House reporter April Ryan tweeted that she heard there was "drama," and that Newman had to be physically removed from the White House grounds.
Thursday morning, Newman denied the reports in an interview on ABC's Good Morning America, and suggested that Ryan has a "personal vendetta" against her.
"No one else has reported what she is reporting," Newman told host Michael Strahan. "And this is the only person who has attacked me for the last year, and so you know that this is personal."
Newman said she and Chief of Staff John Kelly calmly discussed her exit in the situation, and that if there had been a public clash like Ryan described, there would have been evidence, stating: "If I had confronted John Kelly, who is a very formidable person, it would garner enough attention for anyone in the room to at least take a picture or a video or something."
And although Newman will continue working at the White House until January 20, she assured viewers there's more drama to come. When asked how she felt about President Trump's handling of the events in Charlottesville, and Roy Moore's candidacy in Alabama, Newman said:
"Because I'm serving until the 20th, I have to be careful about how I answer this. […] I have seen things that have made me uncomfortable, that have upset me, that have affected me deeply and emotionally, that have affected my community and my people, and when I can tell my story, it is a story that I know the world will want to know."
We can't wait. In the meantime, as Robin Roberts concluded the segment on GMA: "Bye, Felicia."
Watch the full interview below.