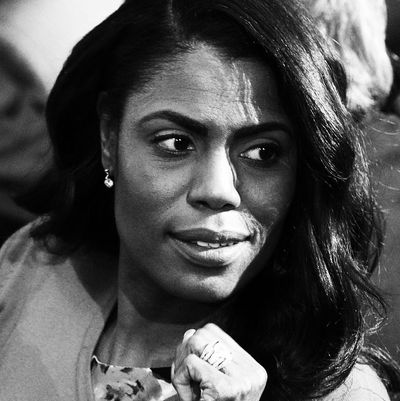 Omarosa Manigault.
Photo: Alex Wong/Getty Images
We know that Omarosa Manigault Newman loves the White House, and feels so comfortable there she used it as a backdrop for her April wedding.
Perhaps all of those memories explain why Newman had such a hard time letting the place go last night when she learned she was fired — again.
Trump's Chief of Staff John Kelly reportedly had to break the news to Newman.
According to reporter April Ryan, the general was warned, "all hell will break loose" if Newman lost walk-in privileges.
Kelly reportedly responded, "Okay, all hell is going to break loose."
And all available accounts suggest Newman lived up to that promise. She reportedly screamed, cursed, and tried to get into the residence to see the president, even setting off the White House security system in her attempts.
The White House has denied she was fired, and the Secret Service has denied having to forcibly remove Newman from the premises. But they have confirmed her pass has been deactivated.
Still, President Trump, or whoever who has been sending out his tweets, sent her off with no hard feelings.