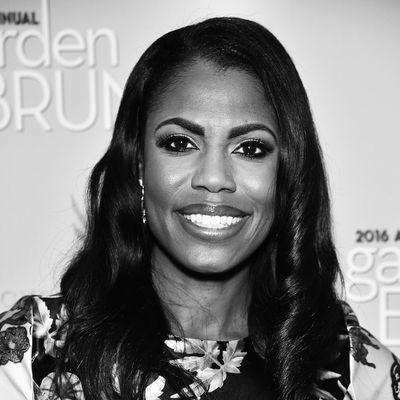 Omarosa Manigault Newman.
Photo: Dimitrios Kambouris/Getty Images
This week, Omarosa Manigault Newman left her position (according to different sources, either willingly or forcibly) as director of communications for the Office of Public Liaison. And while there has been a uniquely Trumpian vibe to the whole affair — conflicting information, feuds, reports of dramatic, expletive-filled confrontations — this is not, in fact, the first time Omarosa has left a White House job under less-than-glorious circumstances. In her 20s, she was a political appointee in the Clinton administration where, according to People, she held four jobs in two years.
During a 2004 Q&A in Washington, D.C., shortly after she gained national attention as a contestant on the first season of The Apprentice, Omarosa spoke somewhat bitterly of her time in government:
I have done logistics and advance and event planning for the White House under the Gore staff … At 23, I got appointed to the White House. That was not a place to learn how to be a young professional. That's a very difficult environment, because they don't believe in training. They just kind of throw you in the fire.
According to a former Gore staffer, though, Omarosa never did logistics or advance work for the vice-president; she worked as a scheduling correspondent, responding to various invitations Gore received.
The staffer also said "she didn't do her job, and it got everybody in trouble," and was soon sent to work in the White House personnel office, which then transferred her again to the Commerce Department, where she held two different positions. In the last, she was reportedly "asked to leave as quickly as possible, she was so disruptive."
"One woman wanted to slug her," Cheryl Shavers, the former undersecretary for Technology at the Commerce Department told People.
So, Omarosa's history in government has been checkered, to say the least. But at least she was able to get a White House wedding photo shoot out of this last job.