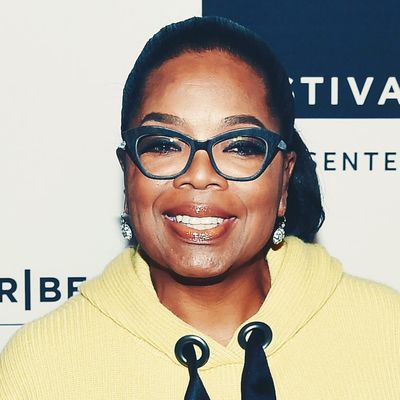 Oprah.
Photo: Nicholas Hunt/Getty Images for Tribeca TV Fest
Six years ago, in a bizarre twist of fate worthy of a Lifetime movie or, say, an episode of The Oprah Winfrey Show, talk show queen and bath connoisseur Oprah Winfrey discovered that she had a secret half-sister named Patricia, whom her mother had given up for adoption when Oprah was 9. After the discovery, Oprah bought her sister a house, and gave her a monthly allowance so that she could pursue her dream of going to college, and this weekend, she accomplished just that.
On Sunday, Patricia graduated from the University of Wisconsin-Milwaukee, with Oprah and her partner, Stedman Graham, in the audience. And while it was a momentous day for the family, no one was more excited than the other UWM graduates who were stunned to see Oprah in the stands.
Some saw her presence as an auspicious start to post-grad life:
And for others, she served as a stand-in for their own absent families:
Oprah reportedly kept her presence at the ceremony quiet, so as not to distract from the graduates, but after the event, she proudly posted pictures of her and her sister to Twitter and Instagram, with the caption "Congrats lil Sis":
Congratulations to Patricia, and to all of the other UWM graduates who briefly got the opportunity to breathe the same air as Oprah!